Kungsleden with a toddler - part 1: Abisko to Vakkotovare
After a long journey to Abisko, the anticipation was mounting up. Finally we were there. We didn't really know what to expect. Not because it was a multiday hike, the longest we've done so far with heavy load, but because it was a multiday hike with the Baba. The little toddler, who had no idea what is ahead, how long it will take and why are we doing this. We didn't have almost any toys - we took with us 2 books (not even her usual ones we read at bed time, but the ones which were small and allowed for more creativity), a small notebook and pen, favourite Duckie and the new friend from the gift shop - the Doggie. Will it be enough, we had no idea, but we simply had no capacity to take more.
We also didn't know if many people do this hike with small kids. My only source of confidence was googling "hiking Kungsleden with a toddler", which gave me some kind of proof that at least 2 couples did it. We are used to doing day hikes in Switzerland, but that is a very different experience - here you are never too far from the "civilisation" - there is always a restaurant or even a playground somewhere near by. How it would be in real nature? We were about to find out.
Day 1: Abisko -Abiskojaure 13km
First day of the hike. After big breakfast buffet and lots of energy we set out for our hike. The weather was cloudy but with no rain expected. The landscape still didn't look very Autumn-ish, with leaves only starting to turn yellow.
The walk turned out to be easy, as we were still full of energy. Baba had 2 naps allowing us to walk mostly when she was sleeping and avoiding boredom and tears. She especially enjoyed the break and eating tortilla with cheese and sausage lunch - what more can you ask for?
We arrived at the hut early, having enough time to cook, walk around and relax. The huts at Kungsleden are quite basic, there is no electricity and you have to make fire and carry water in and out yourself, but this only adds to the feeling of adventure.
Some people were surprised seeing a toddler on the trail, but rather good surprised rather than assuming we are mental for taking an 18month old on a trip to the far north.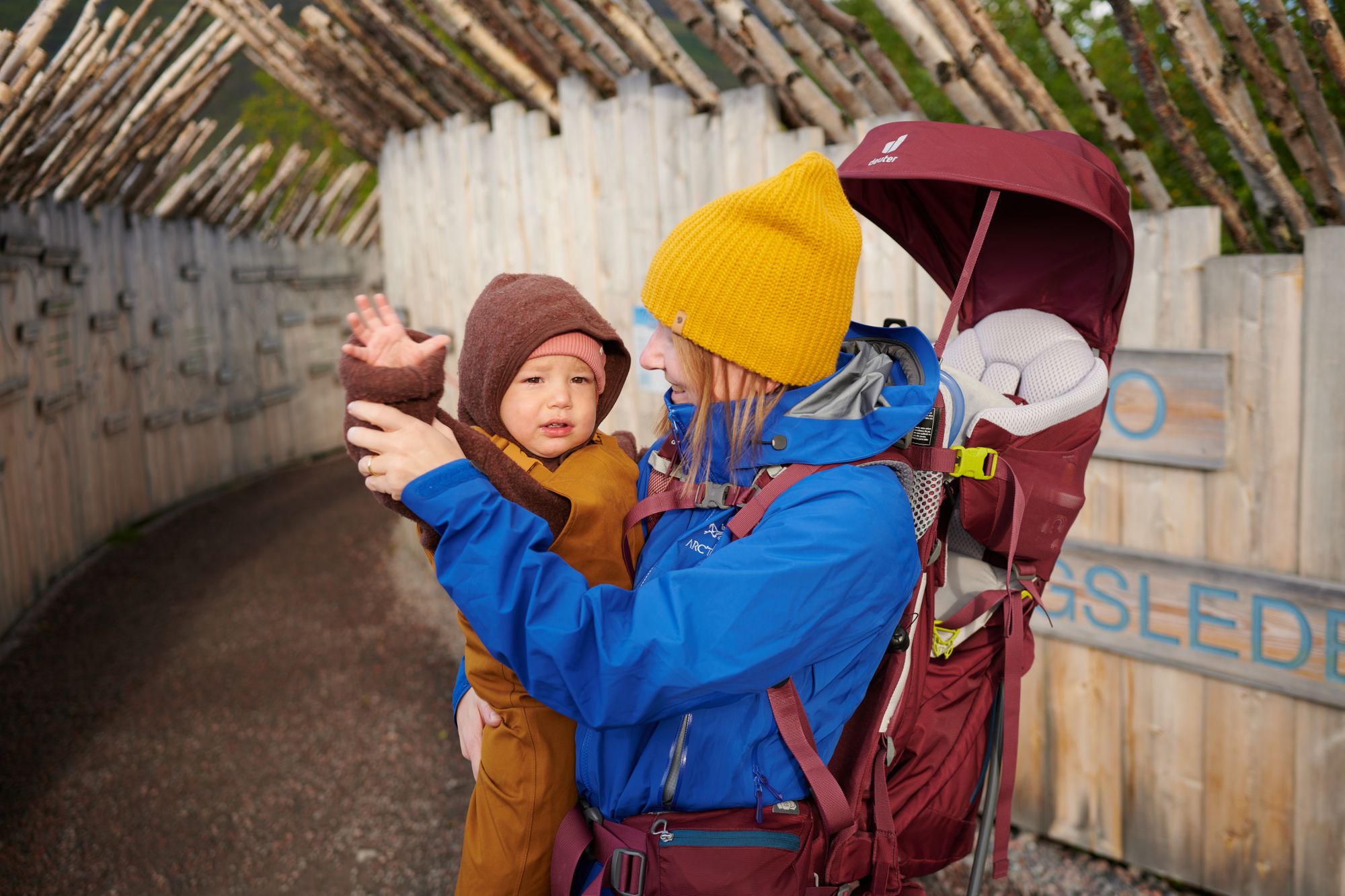 Day 2: Abiskojaure-Alesjaure 21km
From the beginning we knew that it would be one of the most difficult days of the hike. It was long, so we had to leave very early to allow for plenty of time for breaks. The day started early as Baba was still not used to sleeping with me in bed and woke up 5:45, but it also gave us plenty of time to get ready.
The day started off not that great - we left early, 7:30, but Baba thought we are putting her in the backpack for a nap. So she tried to fall asleep but she was not tired yet - she just woke up! So she started to wine and cry and we had to take a small break after 3km already. The weather was still a bit dump and misty, so we just gave her a sausage and explained that we have to go to look for reindeers and we will take a break later. She wasn't thrilled, but fell asleep soon after, so we were able to keep on walking.
Later on it got much better, as the sky cleared out and the views were beautiful. We also were more relaxed so it was easier to keep Baba entertained. We kept on talking about the cheeky reindeers who love being cheeky and chase the ducks, and I was really hoping we would soon see one, as the trick might get old pretty quickly if she realizes there are no reindeers.
The last 5km was difficult. If it was mid-season, we could have taken a boat to shorten the hike, but now they were no longer operational, so we had to walk. It was getting taugh, as Baba already had her 2 naps, and we were also getting tired. Luckily, a reindeer saved the day! We saw one just 2 or 3km before the hut and that gave us enough energy to power through and finish the hike.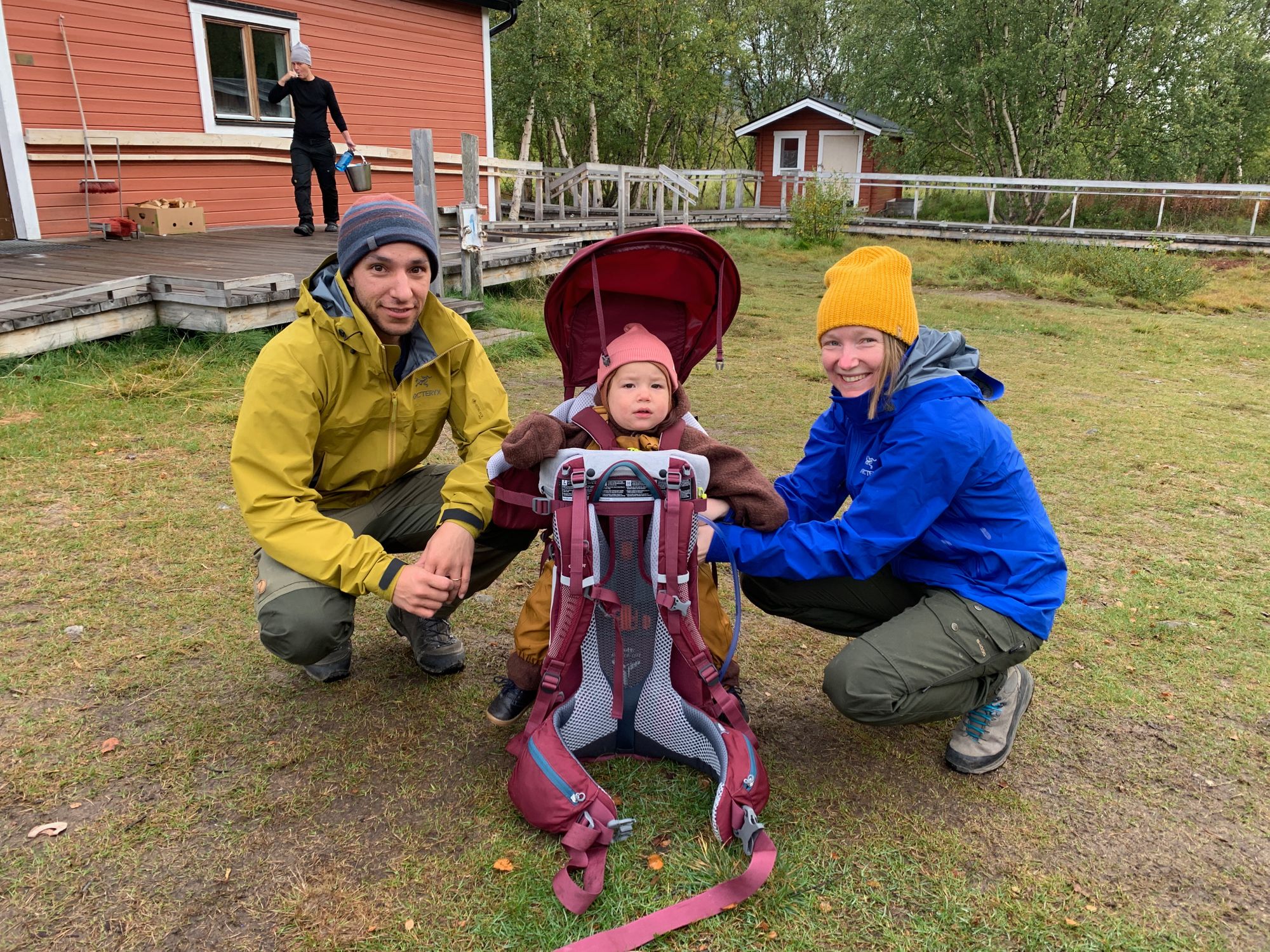 Day 3: Alesjaure-Tjäkta 13km
The next day was again more relaxed. We left around 8:30, and set out to look for reindeers. The day started out quite windy and cold, but by midday it got warm, and we were able to enjoy a long picnic break, with time for running around and drawing in the notebook. Baba seemed very happy, and since the hike wasn't long, the mood stayed this way until we got to the hut.
The last few kilometers turned out the hardest, as the day ended with an ascend - we were able to see the hut from the distance, and that made "the last bit" seem quite long. On the top it was quite cold as Tjäkta Fjällstuga is situated at approximately 1000m. The hut was small and cosy, and Baba enjoyed waving and smiling at people. She even got a small piece of chocolate from a fellow hiker - definitely good day for her!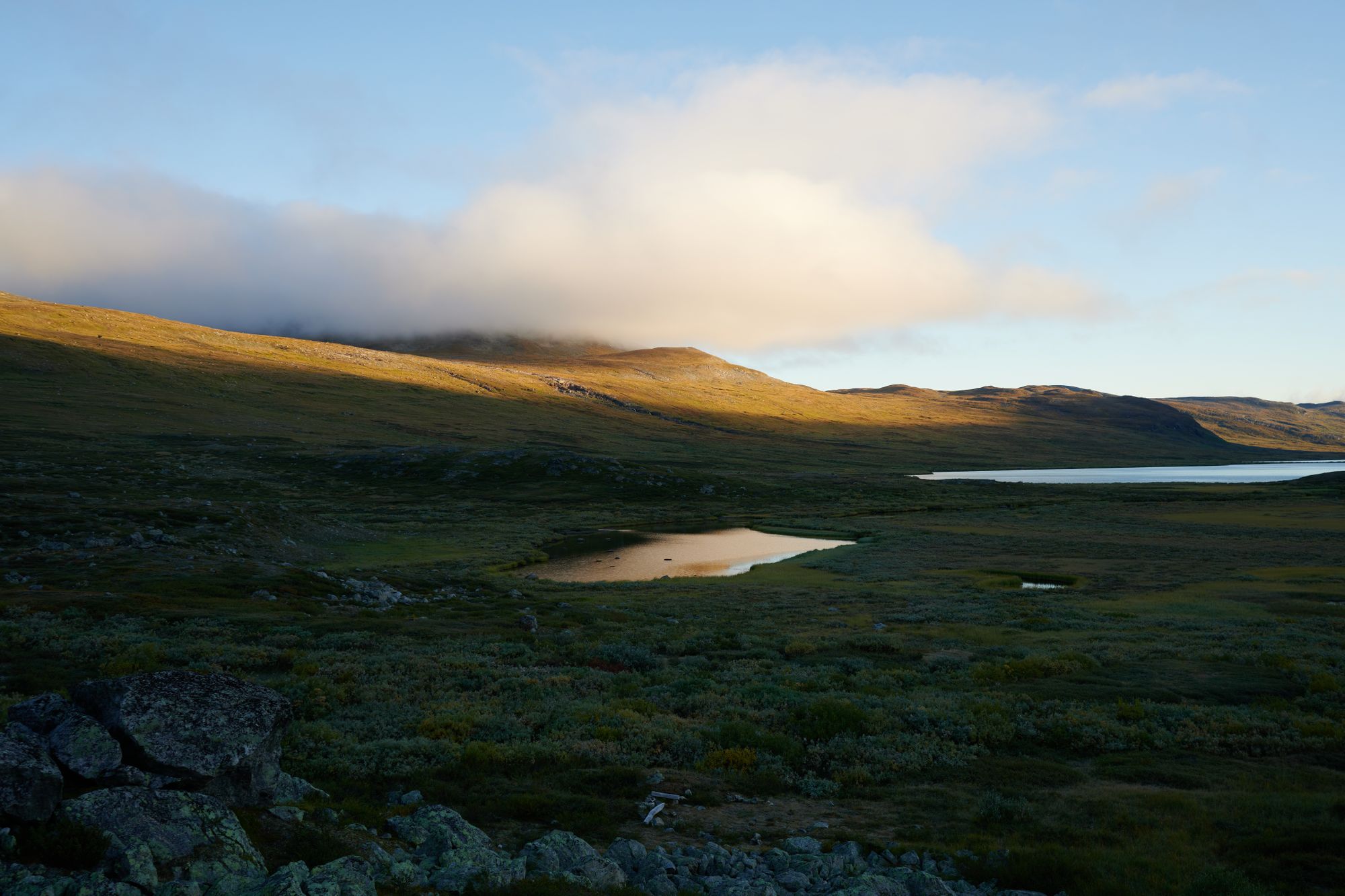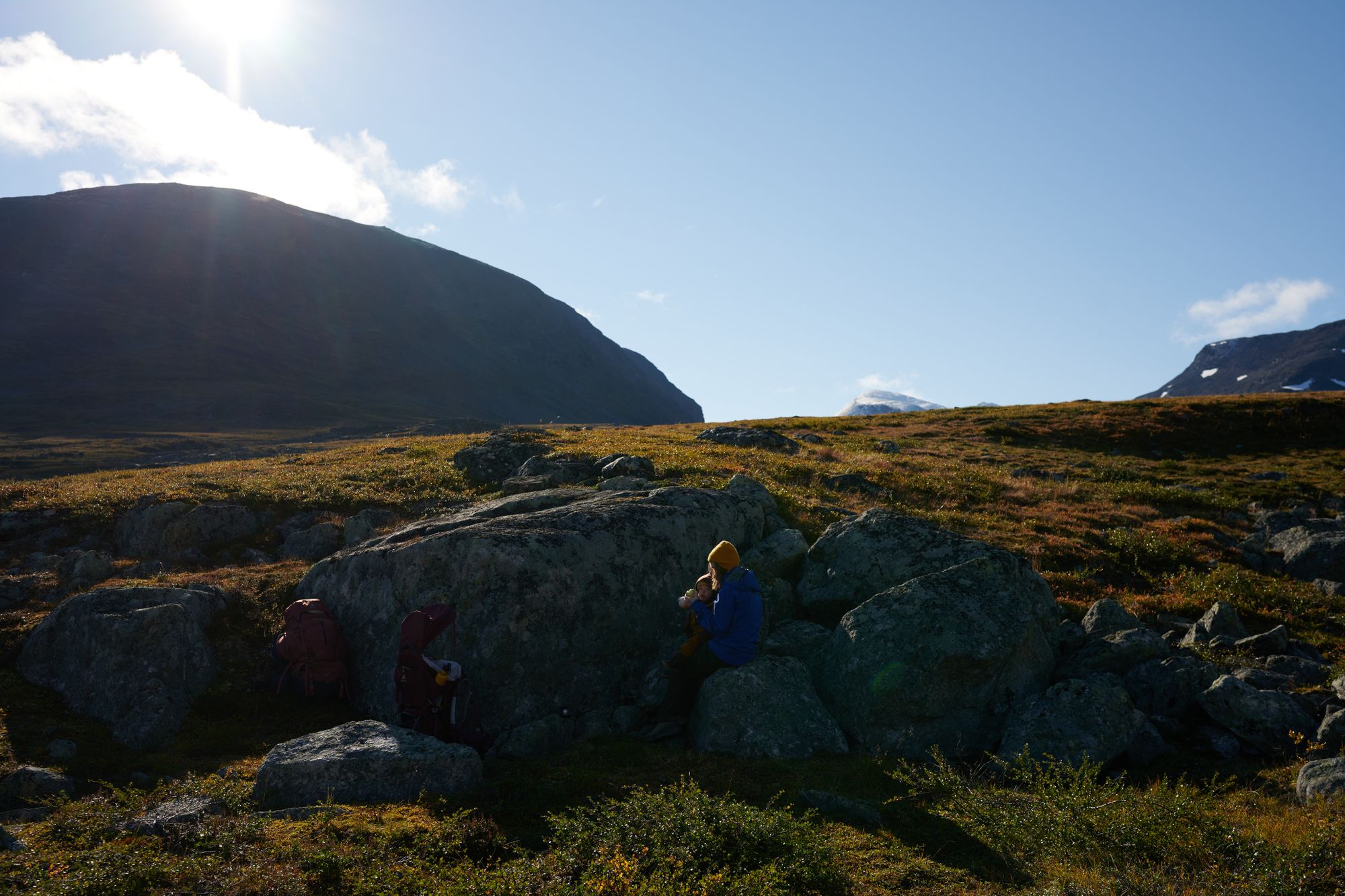 Day 4: Tjäkta-Sälka 13km
The day started out not so great, but turned out pleasant and short. We left around 8, and it was still very cold and quite windy, as we were high up - we needed to cross the Tjäkta pass at 1140m, which was the highest point of the first part of the trail.
We were only to blame ourselves that the day started badly. Baba fell asleep quickly after we headed off, but we underestimated the cold and the wind and didn't put wind protection on the carrier, so I think it woke her up sooner than she wanted, very upset. There was no other way than to continue to the top where there was emergency shelter. She was really not happy about this, but once we got to the shelter, we gave her some sausage and chocolate to elevate the mood, and did some warm-up dance, which she found really fun!
After that it was only better - after the pass we were on the southern part of the mountain, sunny and much warmer. She could go back to sleep and we could enjoy another nice picnic, still arriving at the hut early in the afternoon.
In a small shop in the hut we bought cheese in a tub, that turned out to be a great hit with Baba - so much, that she wanted to eat it on its own and kept on licking it off the crackers asking for more!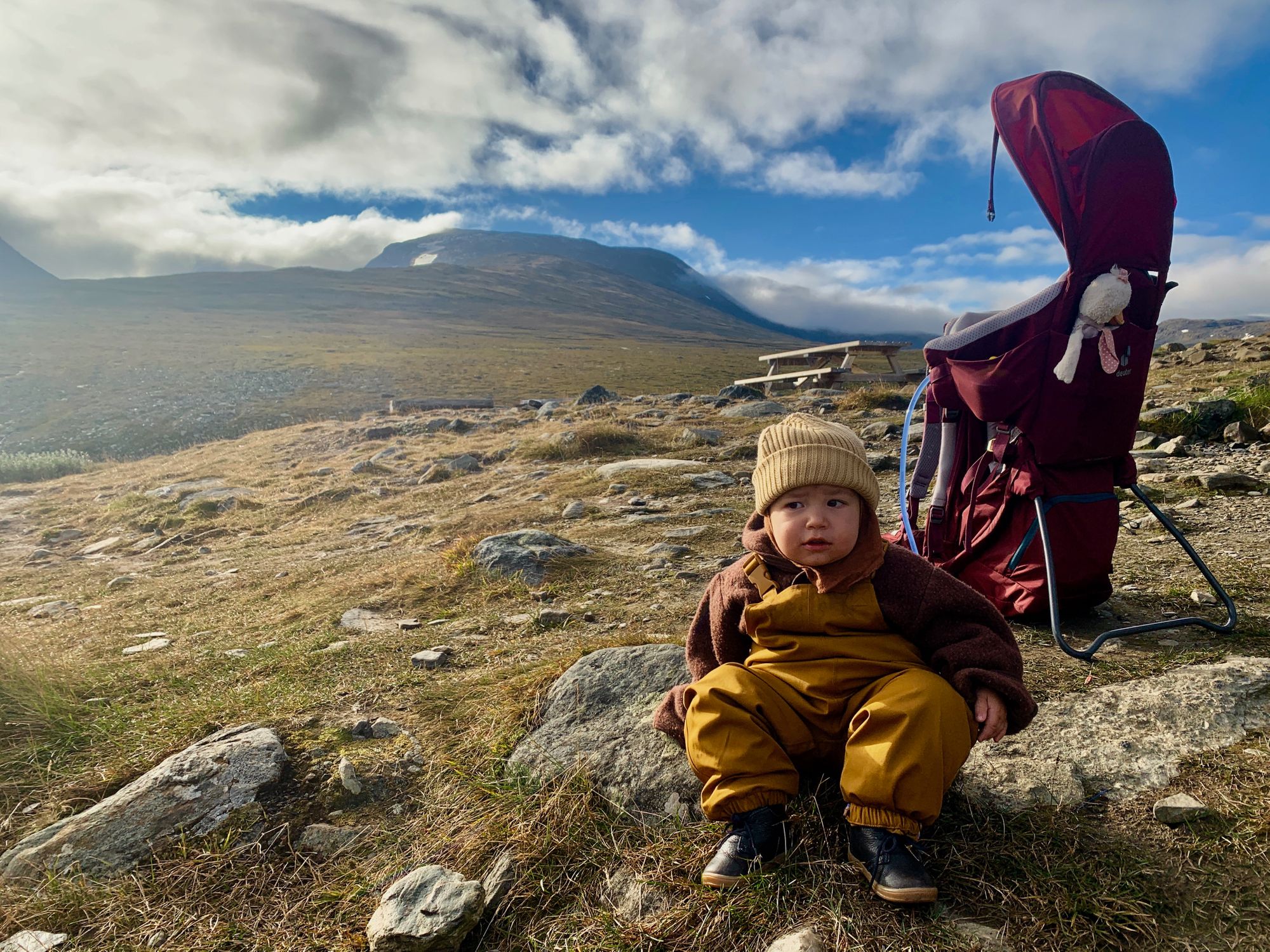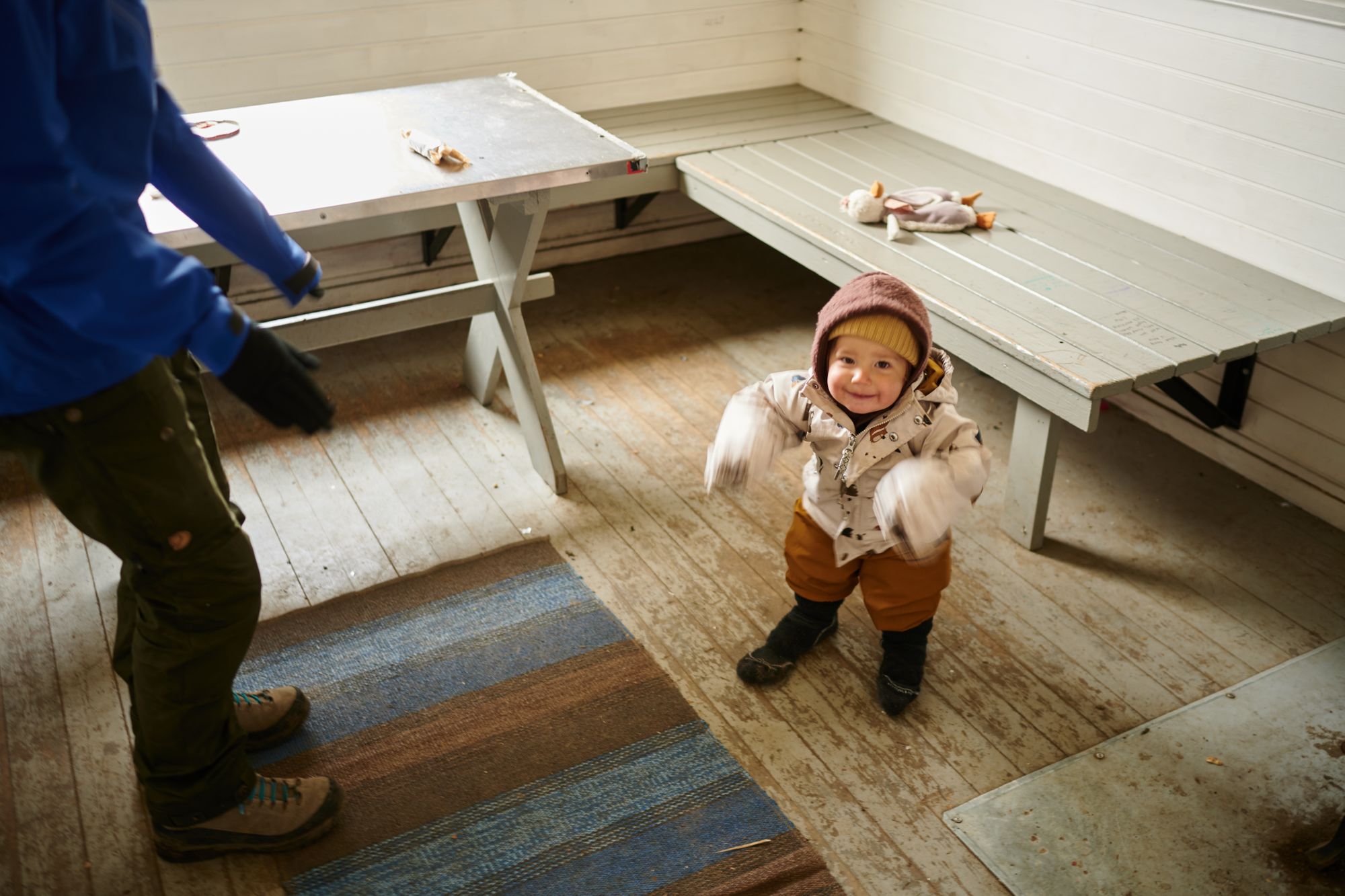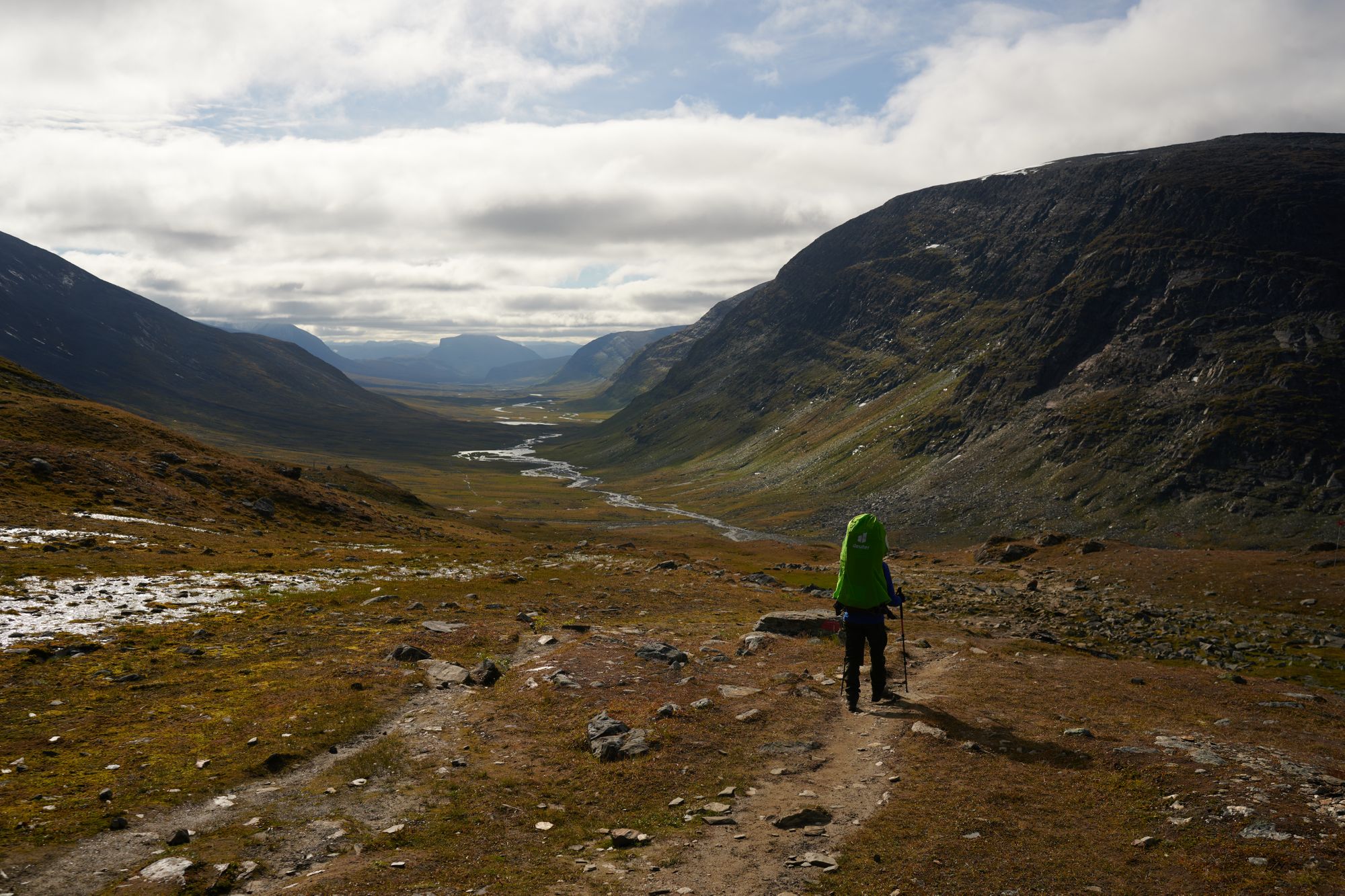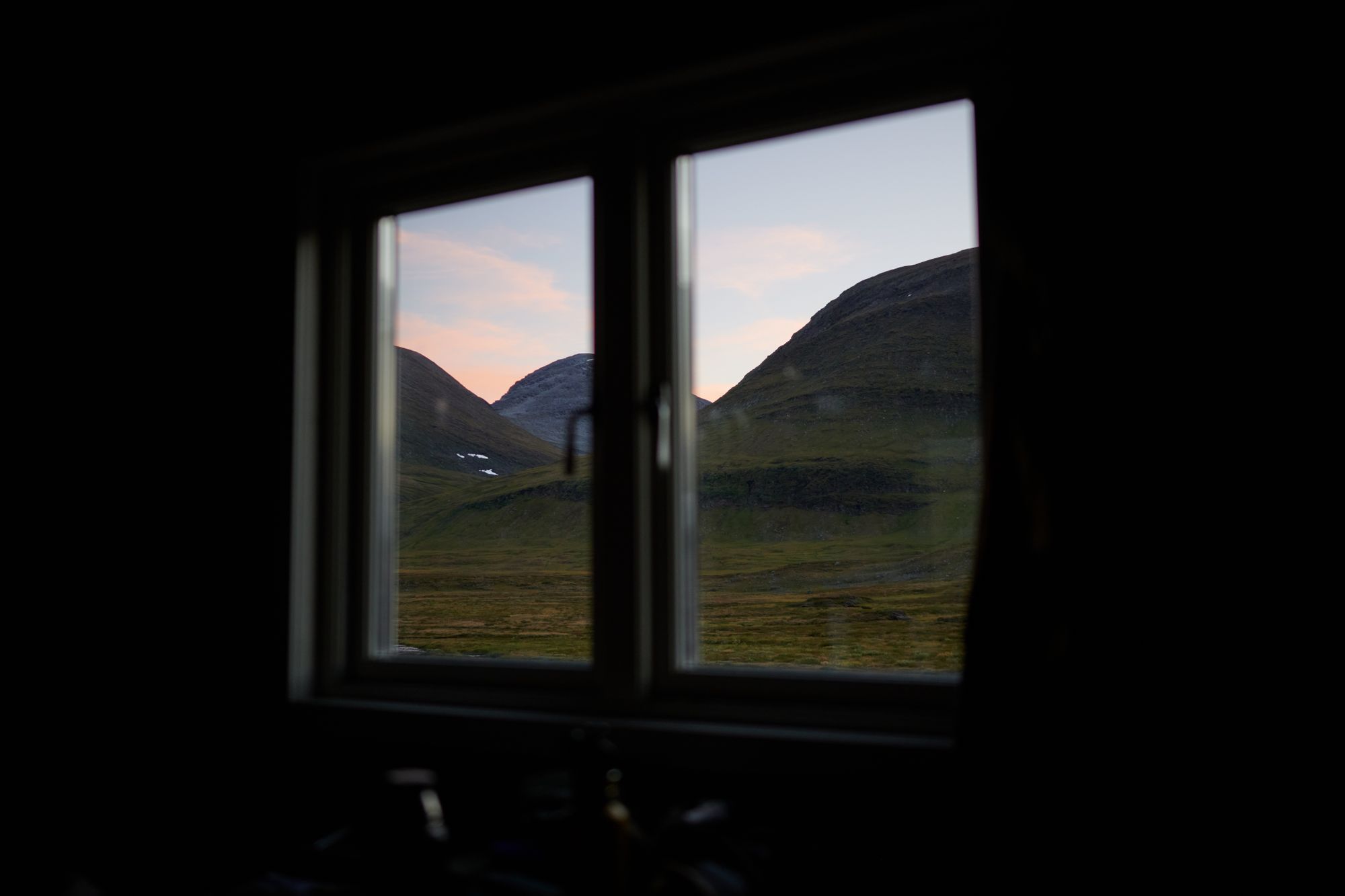 Day 5: Sälka-Singi 12km
Another really good day, with sky clearing completely by midday. As the mornings high up were already below freezing, we took our time to let the sun reach the valley and all the frost melt.
It was the last day we were following the "busy" part of the trail, so we were passed by many people since we were probably one of the slowest ones, taking our time. We really enjoyed our long breaks in the sun. And thanks to them, Baba was in a consistently good mood.
Arriving in the hut we found a pleasant surprise - there was a reindeer hanging out there. So once again something that made Baba very happy (as the goal of the whole escapade was obviously chasing the cheeky reindeers).
And at night the clear skies offered us something you can only find in the far North - Northern Lights! We didn't expect to see them, as the nights were just at the point of returning, but so they were. We have seen some already in Lofoten, but they were so bleak that only knowing that they are there you could point your camera at them and hope to catch something, but very little was visible to the naked eye. Here it was different - with the clear sky and strong Aurora activity, it was a whole spectacle that went on for hours - we didn't even bother taking many pictures as we figured that as we had no tripod, they would turn out shit anyway, so we might as well just enjoy them!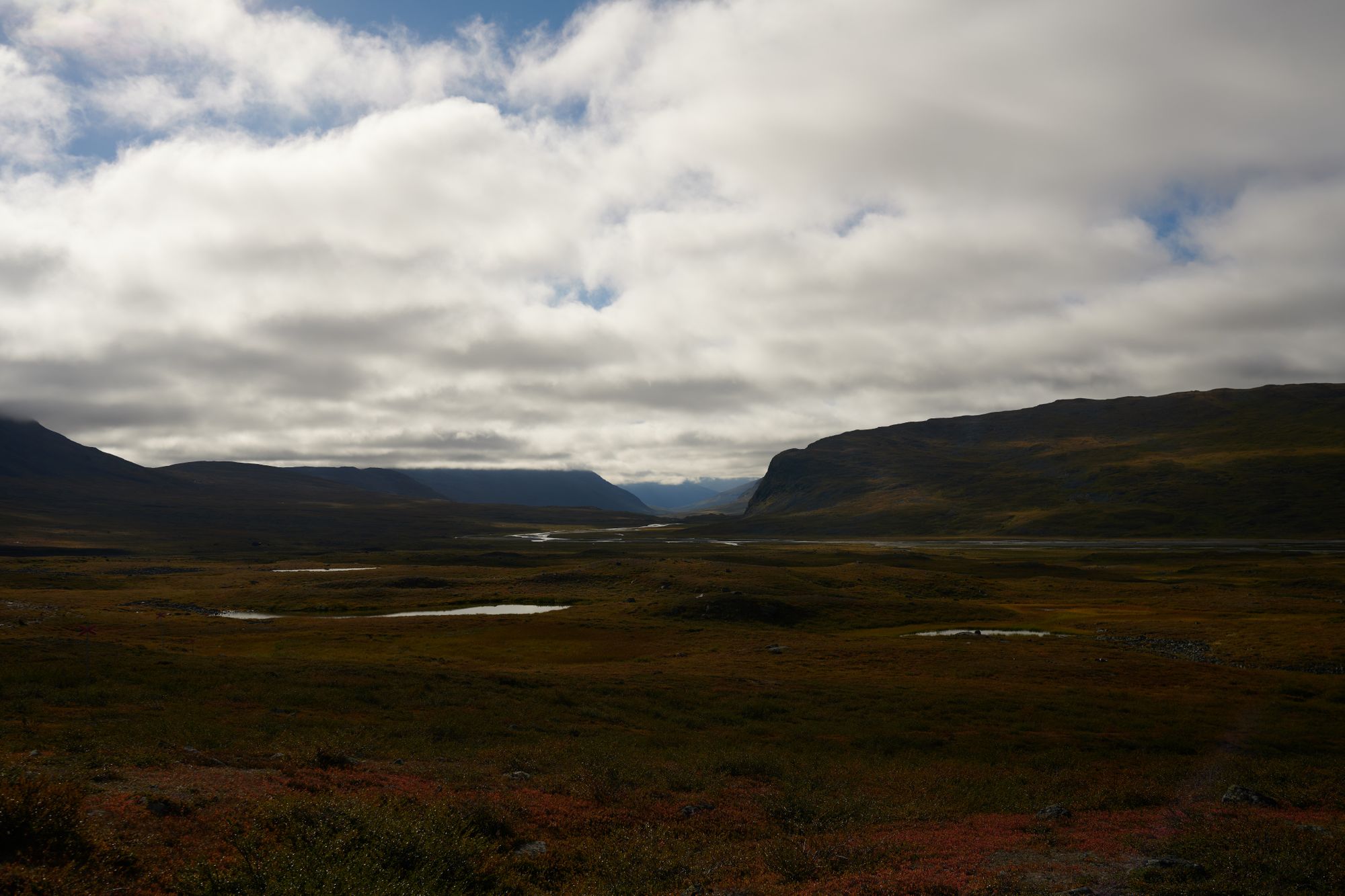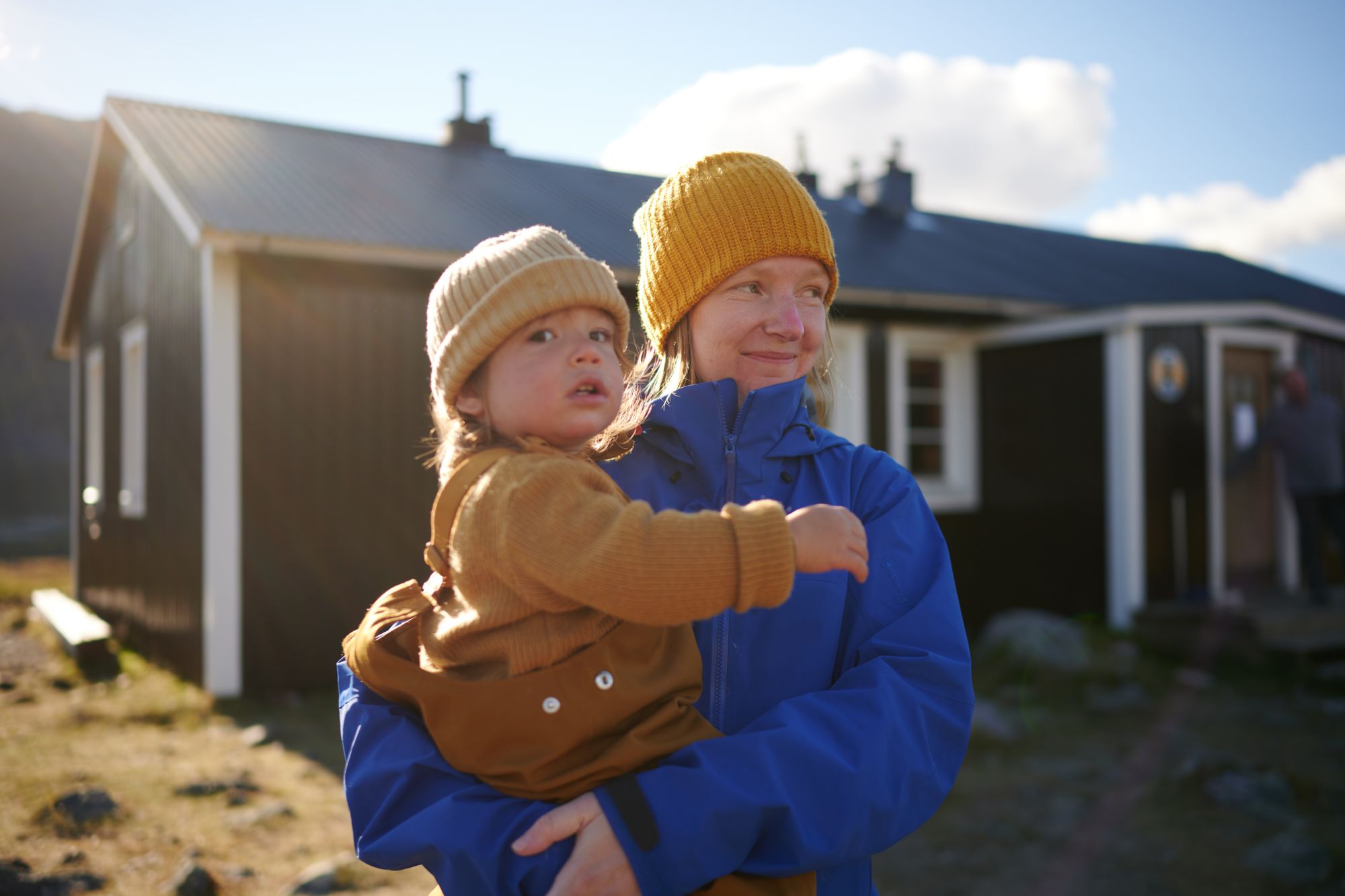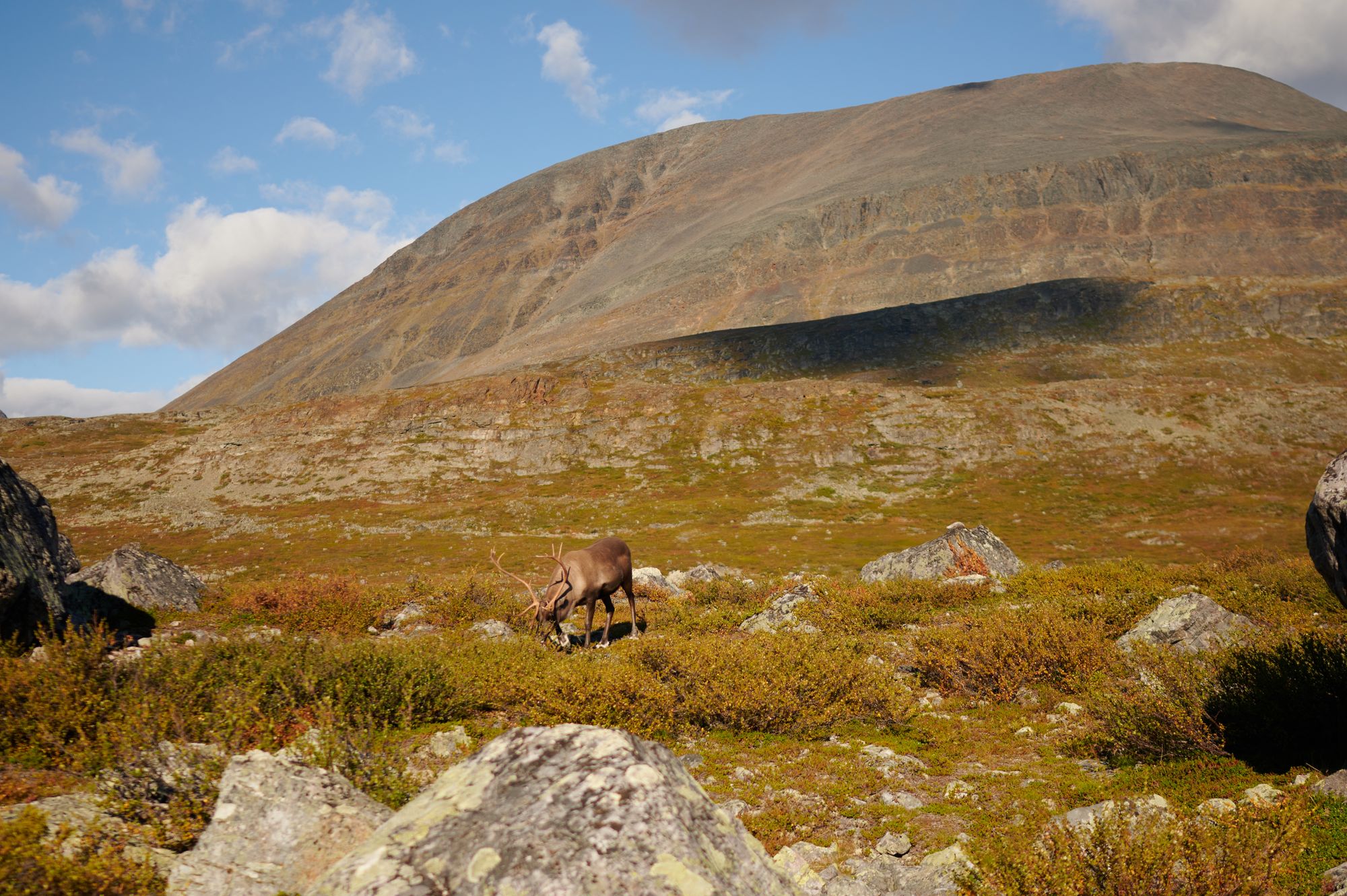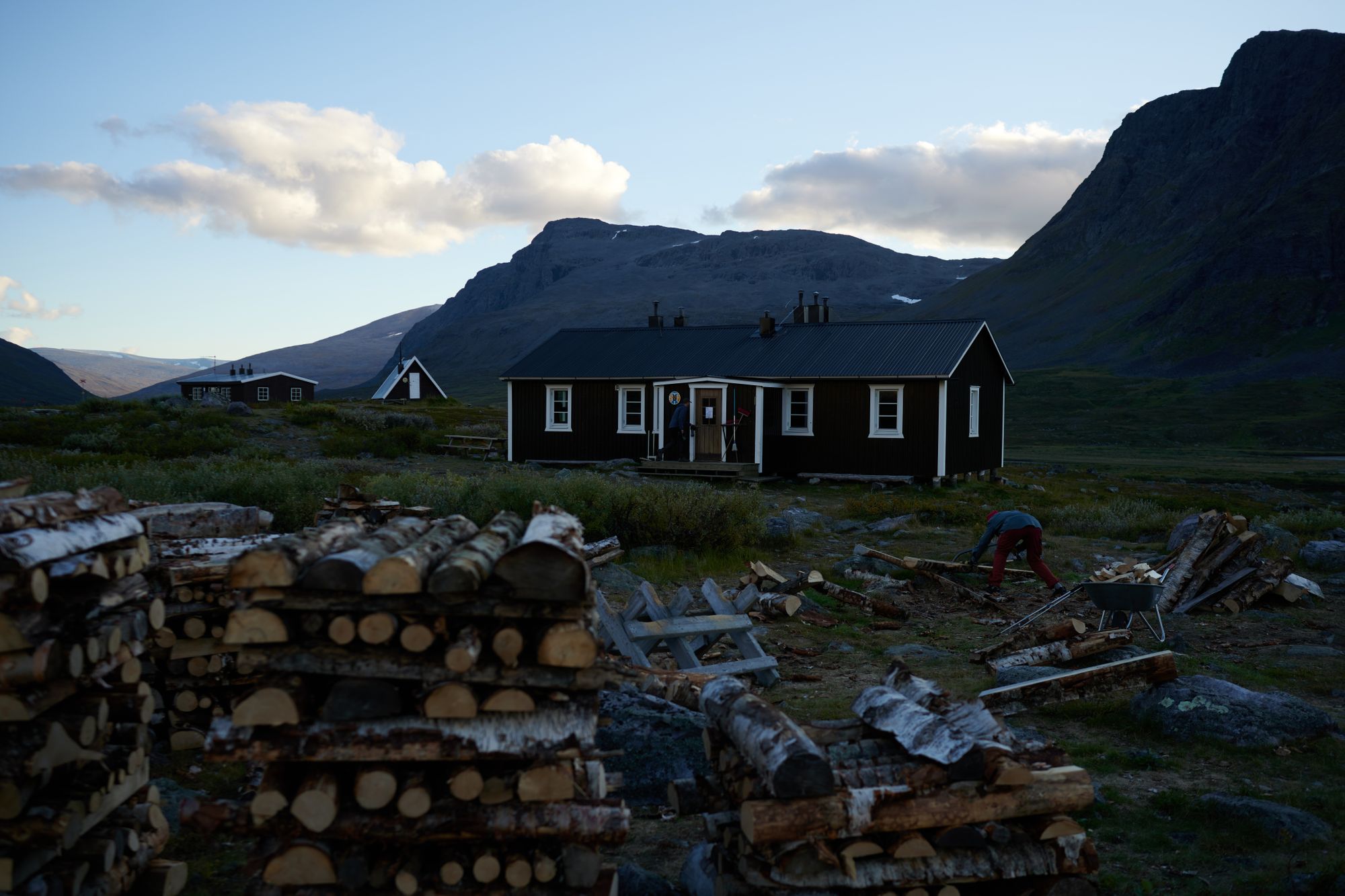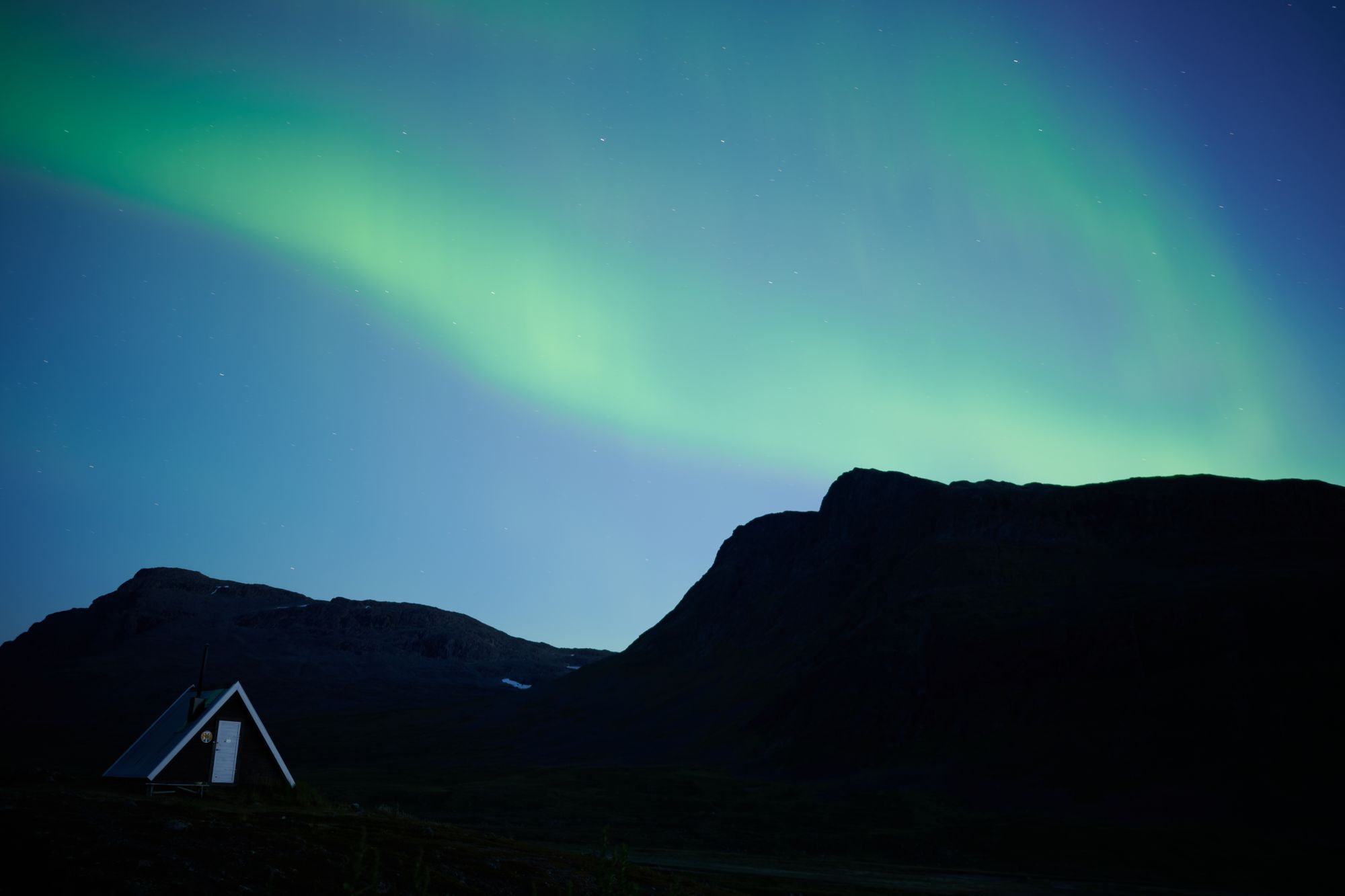 Day 6: Singi-Kaitumjaure 12km
Since we have been warned that the weather is turning a bit sour, with more cloudy sky and higher winds expected, we started pondering whether it makes sense to continue the hike beyond Vakkotovare. We didn't want to have our so far great experience to be ruined by pointless stubbornness, most likely on my side. We were kind of sad about it, as the part we were mostly hoping to see was in the second part from Saltoloukta to Kvikkjokk, with the most awaited view from Skierfe onto the Rapa Valley. But we were also getting quite worn out, with the weight of the backpacks taking its toll.
This was the day when out paths split with pretty much all people we met who were following the same route - most hikers opt for the Abisko-Kebankaise route, which is by far the most popular and most crowded part of Kungsleden. We were actually quite happy to discover that from now on the trail stayed pretty much empty. Through out the day we've seen barely few hikers, all of them heading in the opposite direction.
At the very end of the day, we have trees covered in yellow leaves - the Autumn was in "full bloom" if you can say that. That was the moment we realized we have been above the tree line for most part of the hike, and it was nice to see those colors we hoped for finally appearing.
Reaching the hut we saw even more of them, and a spectacular view of the lake. As the trail was not busy at all, and it was a short enough to allow most fit hikers that do not carry such a heavy load to skip that hut altogether, we were happy to discovered that the hut was almost empty - it was just us and another couple! Baba had all the space she needed to run around, and the hosts were very welcoming - probably not having to deal with that many people they were happy to chat with everyone. And the sauna with a view at the end of the day, just for us! Could it get any better?
After chatting to the hosts and checking the weather, we were also pretty much decided on finishing the hike in Vakkotovare.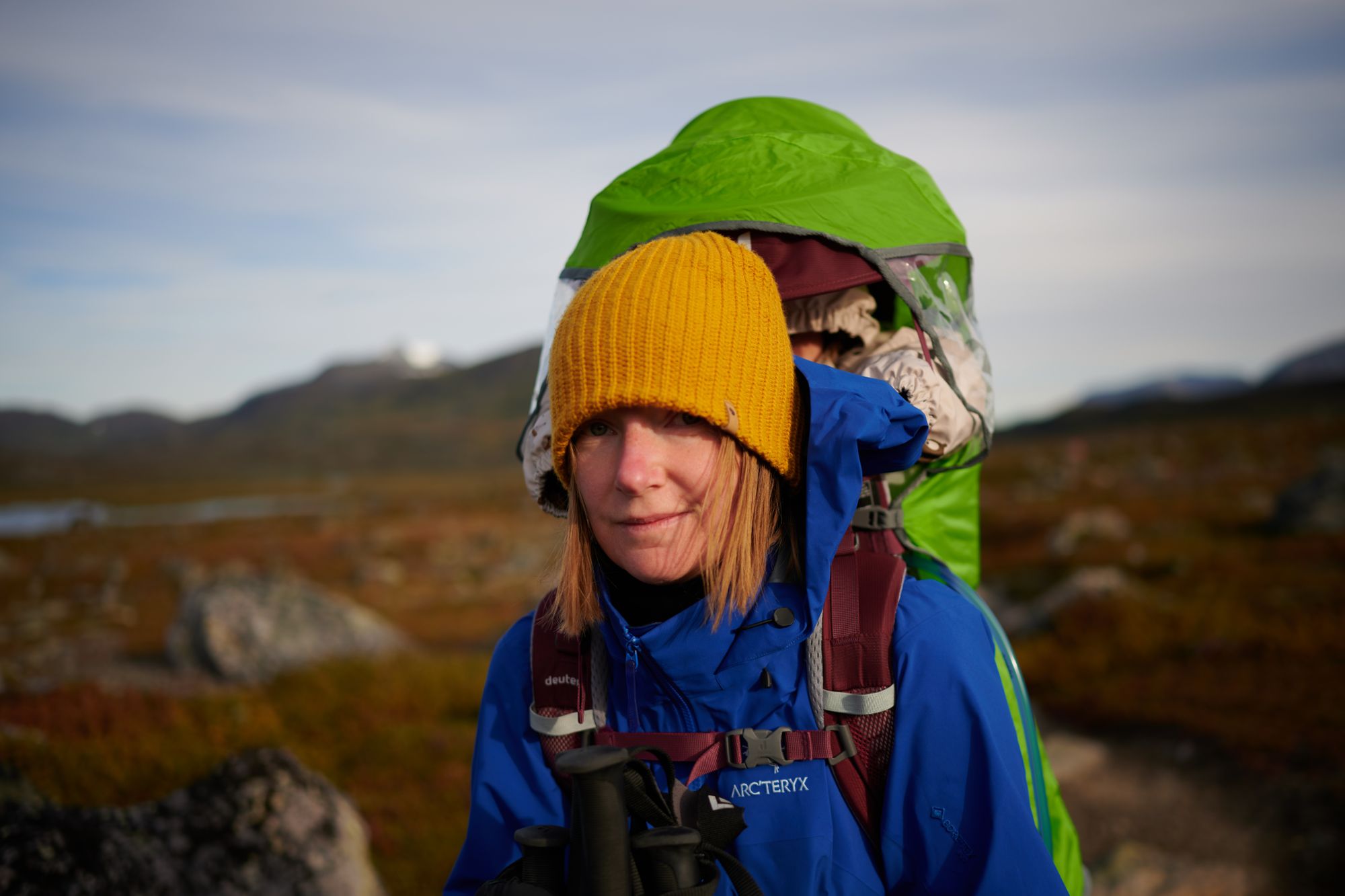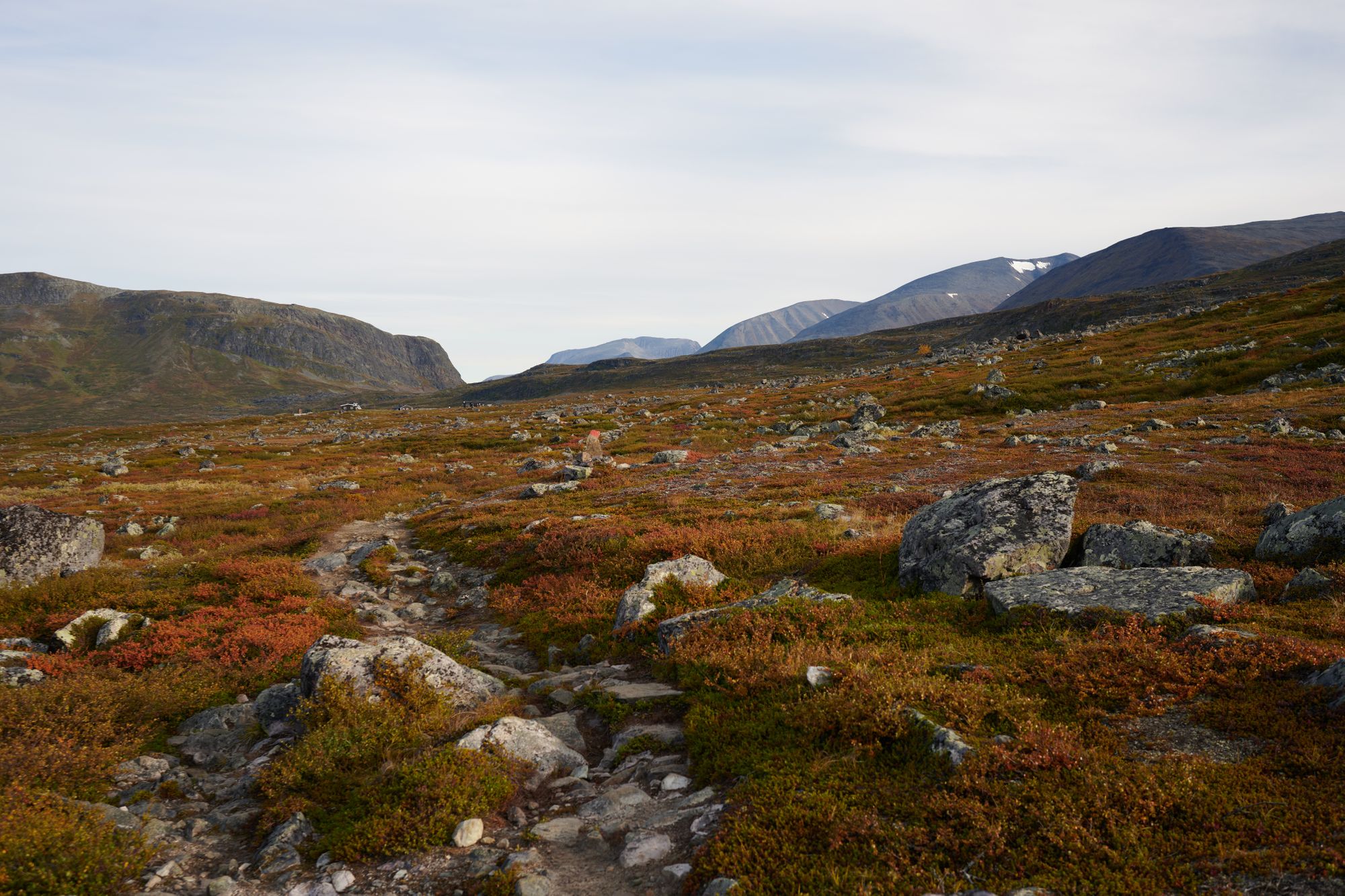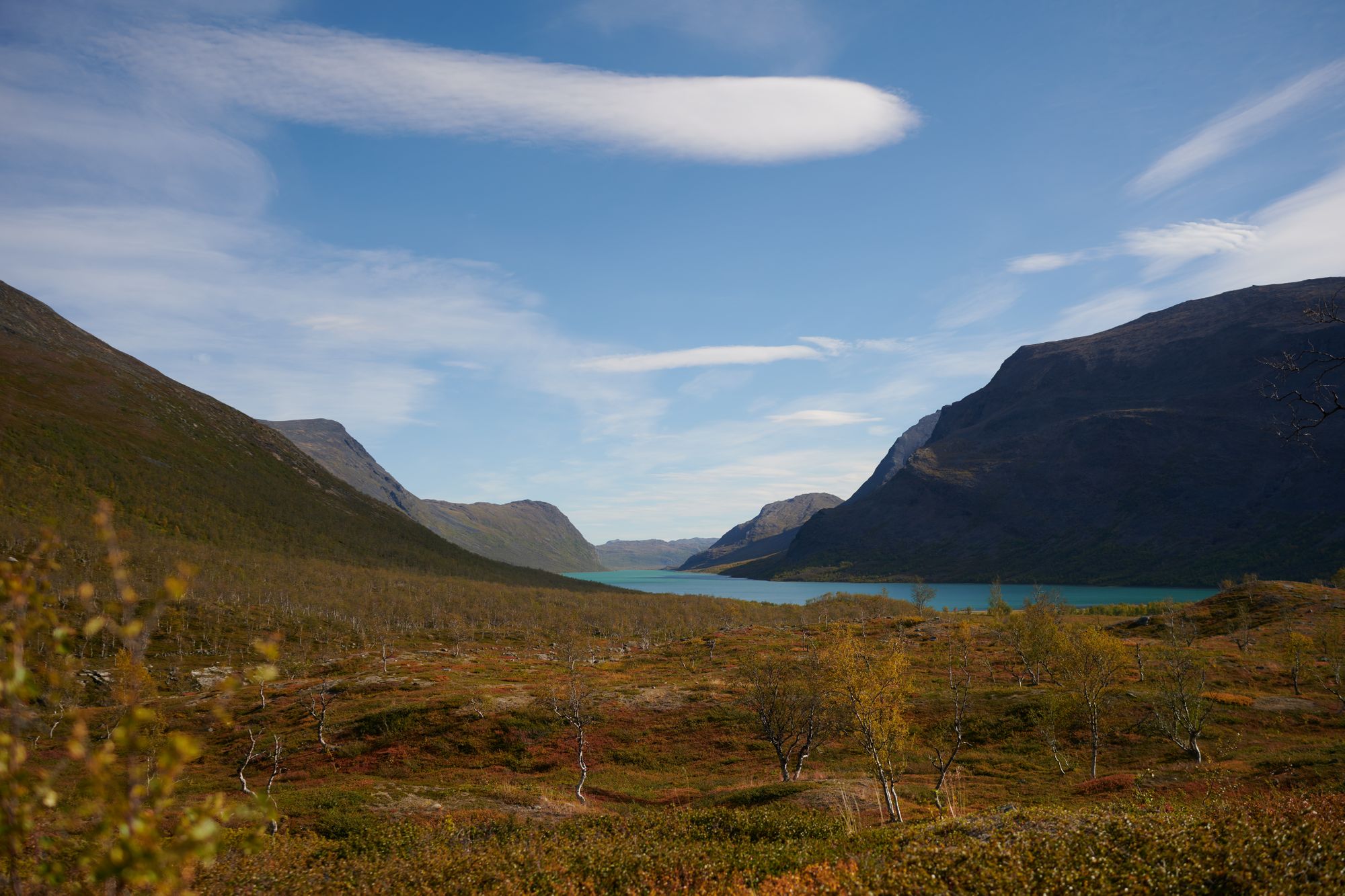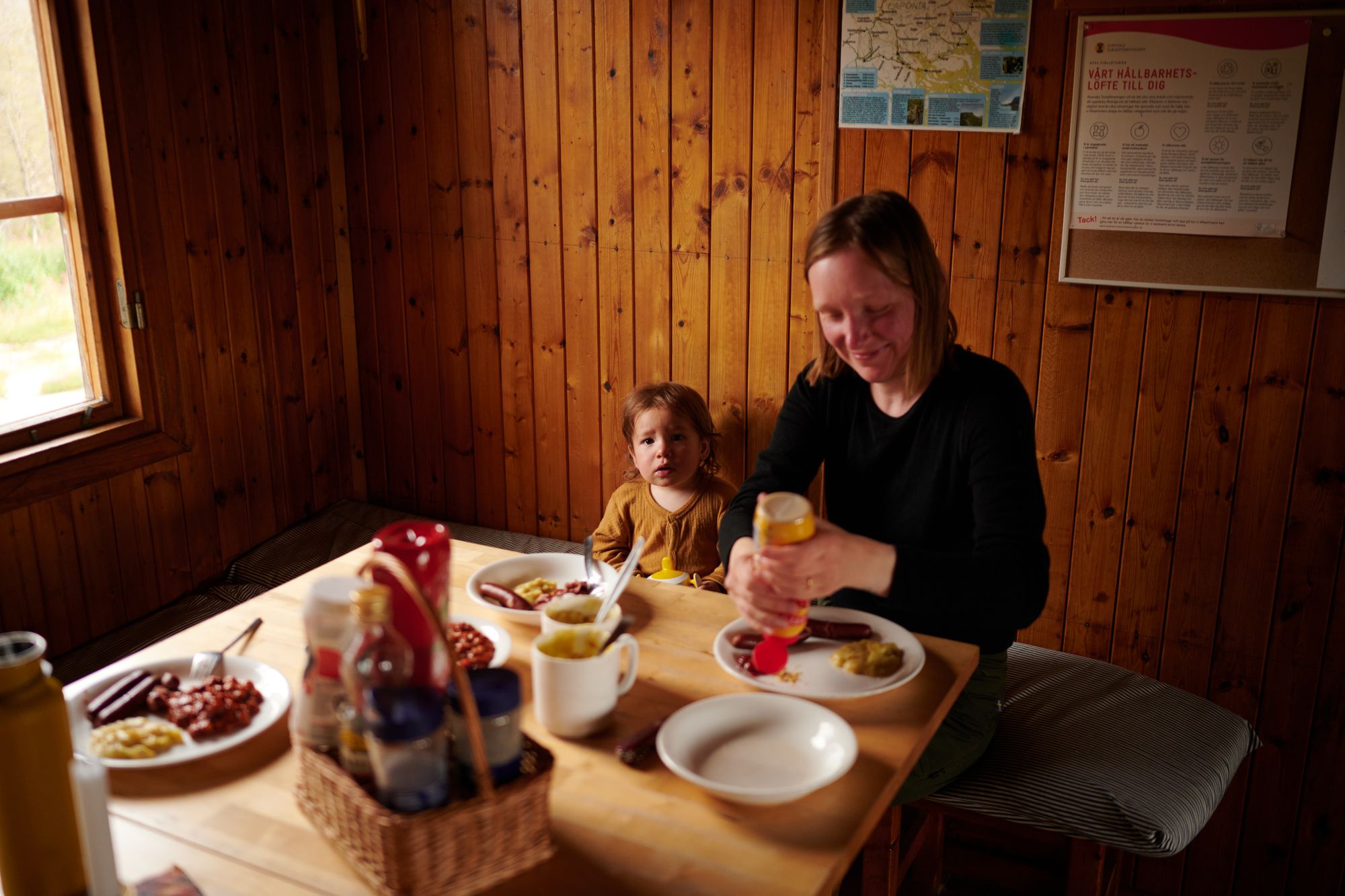 Day 7: Kaitumjaure-Teusajaure 9km
The day was quite gloomy and with not much sun, we felt already that Arctic Autumn is there. After saying goodbye to our friendly hosts, we continued the hike. Landscapes didn't stop to impress us - with the mist in the air and lots of yellows and reds around us, it truely felt like Autumn has arrived in the Arctic.
The hike was short and quite easy, for the first part - it was a very gentle ascent followed by a vast plateau. The last few kilometers however were a steep descent - very painful for the tired knees and feet. Because of the misty, damp air, the stones were slippery, so we had to be very careful. And since the hike was short, there was not enough time for Baba to fall asleep for her second nap, so she was also cranky, nagging us to finish fast.
So we did. The hut was situated in the forrest by a lake, and we thought we would be there alone as we were the first ones to arrive, but soon it got crowded. There were still plenty of people hoping to finish the trail before the huts close for the winter.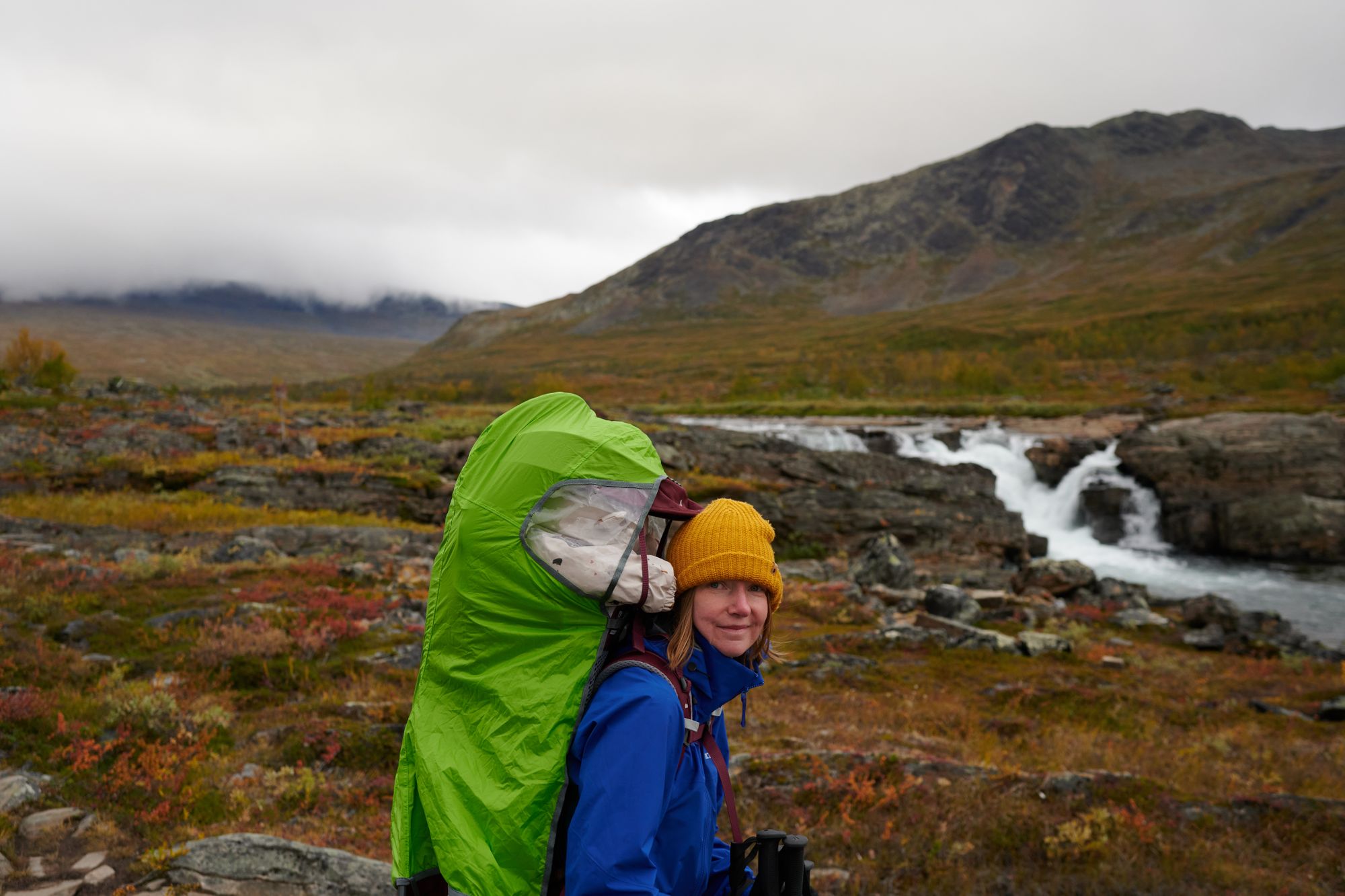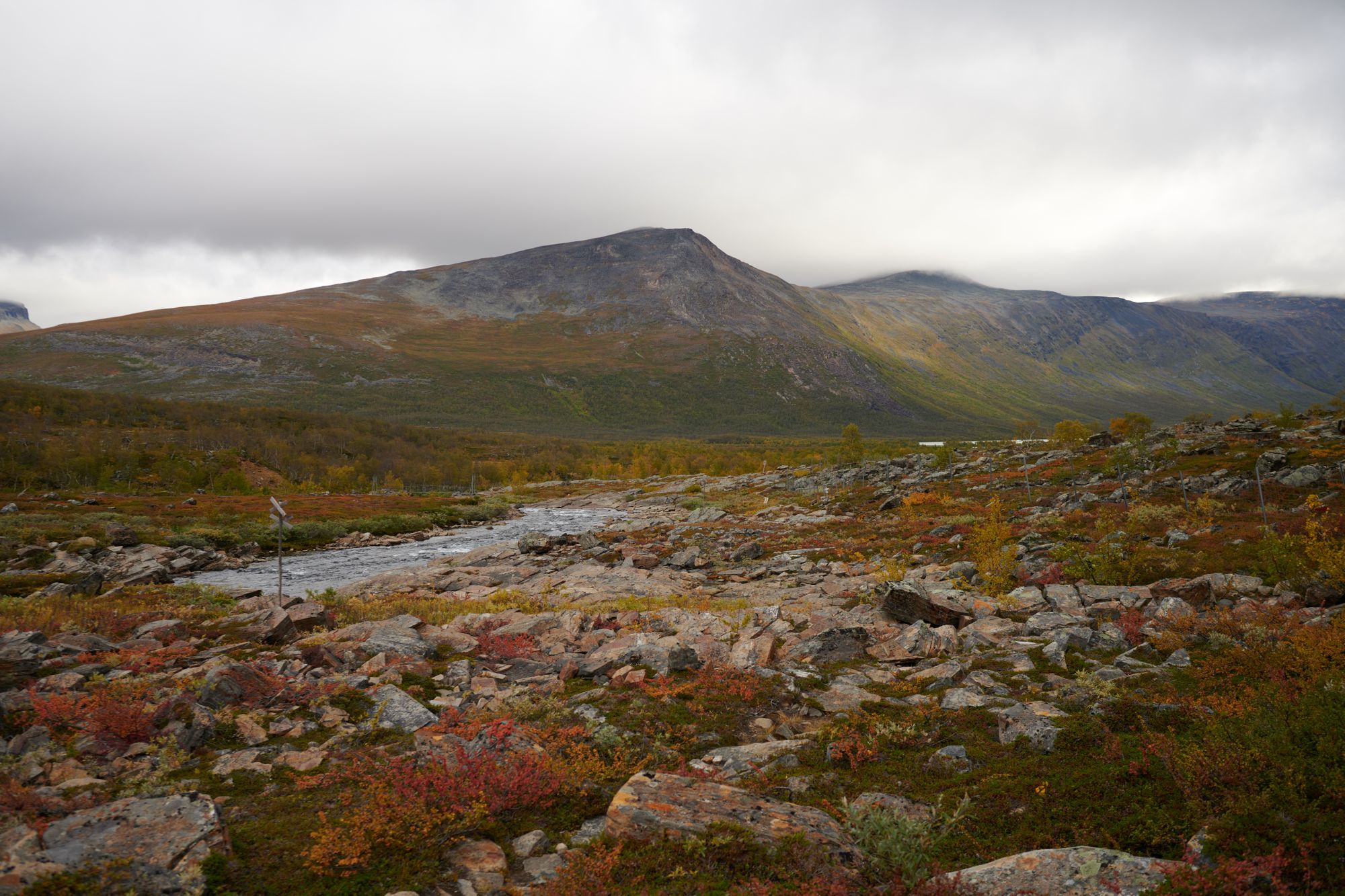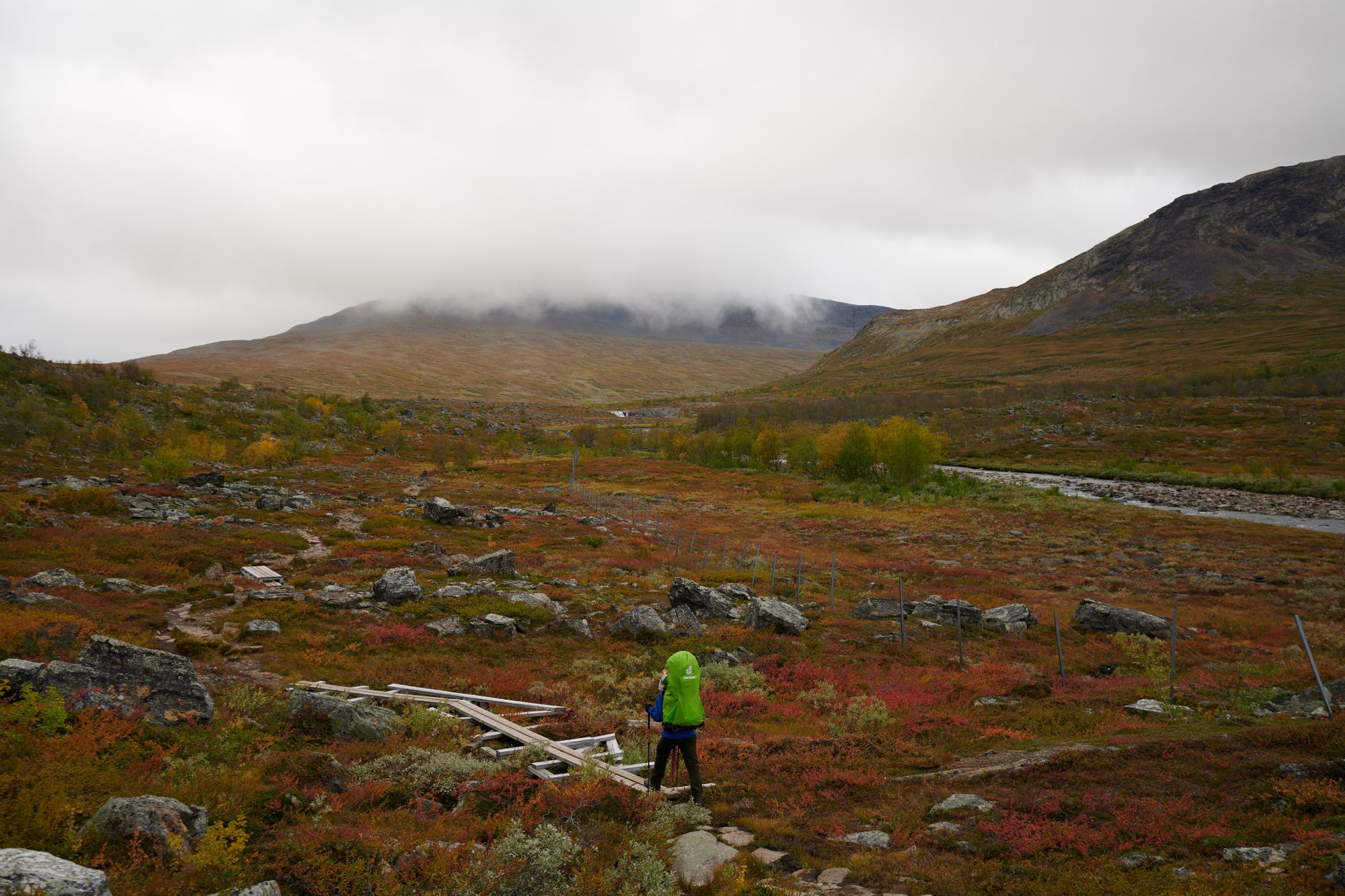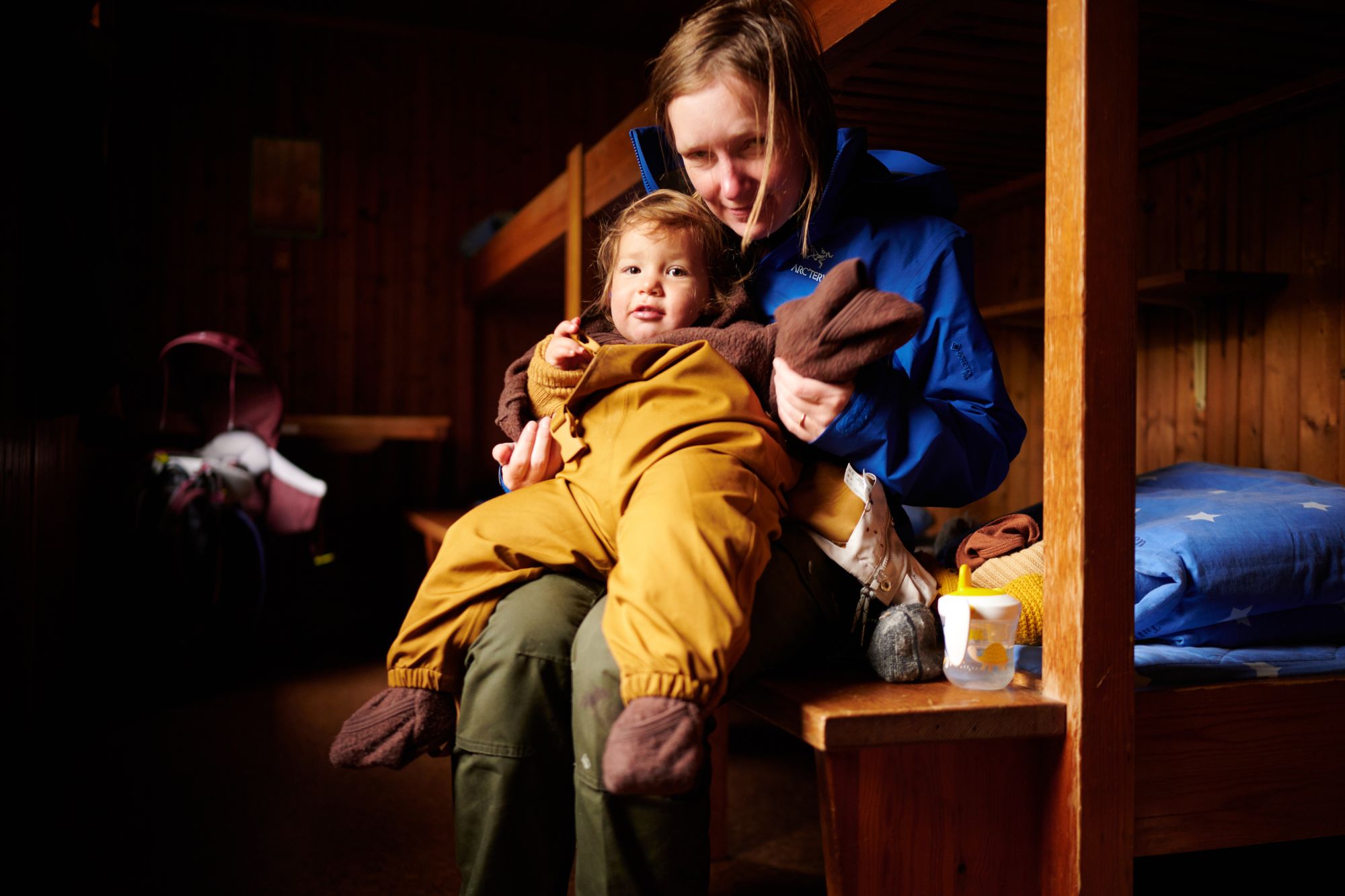 Day 8: Teusajaure-Vakkotovare 14km
Last day of hiking - so we thought.  The day was supposed to be hard, especially as every sign and person kept to referring to 16km distance, even though our map clearly showed 14km of hiking that day, plus very short boat ride. And the weather did not look promising - it was a misty and gloomy day.
It was supposed to be the first motor boat crossing of this journey and, most importantly, first motor boat crossing for the Baba, ever. There are rowing boats available on the lake side if you feel like testing your rowing skills, but this is obviously not what we went for. We are not THAT crazy.
Getting inside the boat Baba gave us clear signs that this is not ssomething she wants to do - she started crying and protesting but there was no way around it - we had to get to the other side. So we put on the life jacket and waited for the boat to leave, trying to explain Baba that it is going to be fun and nothing's going to happen. And once we started moving, she actually enjoyed it! After the boat stopped the first thing she said was: "more". But that was the only boat ride of that day - the rest was just hiking.
So we put Baba in the carrier, and started moving. The first part was a rather steep ascent, but after that came a flat plateau, pleasant to walk, even though the weather was still rather cold.
When we took our break we saw some reindeers, and even more going down.
It turned out that the ascent wasn't the hard part - it was going down on that big rocks that was going to be pain. Actually, it was consistently so throughout the trail. Navigating between rocks and slippery mud is not that fun, and not easy with a heavy backpack on. So few hundred meters from the destination we were relieved that it is soon done.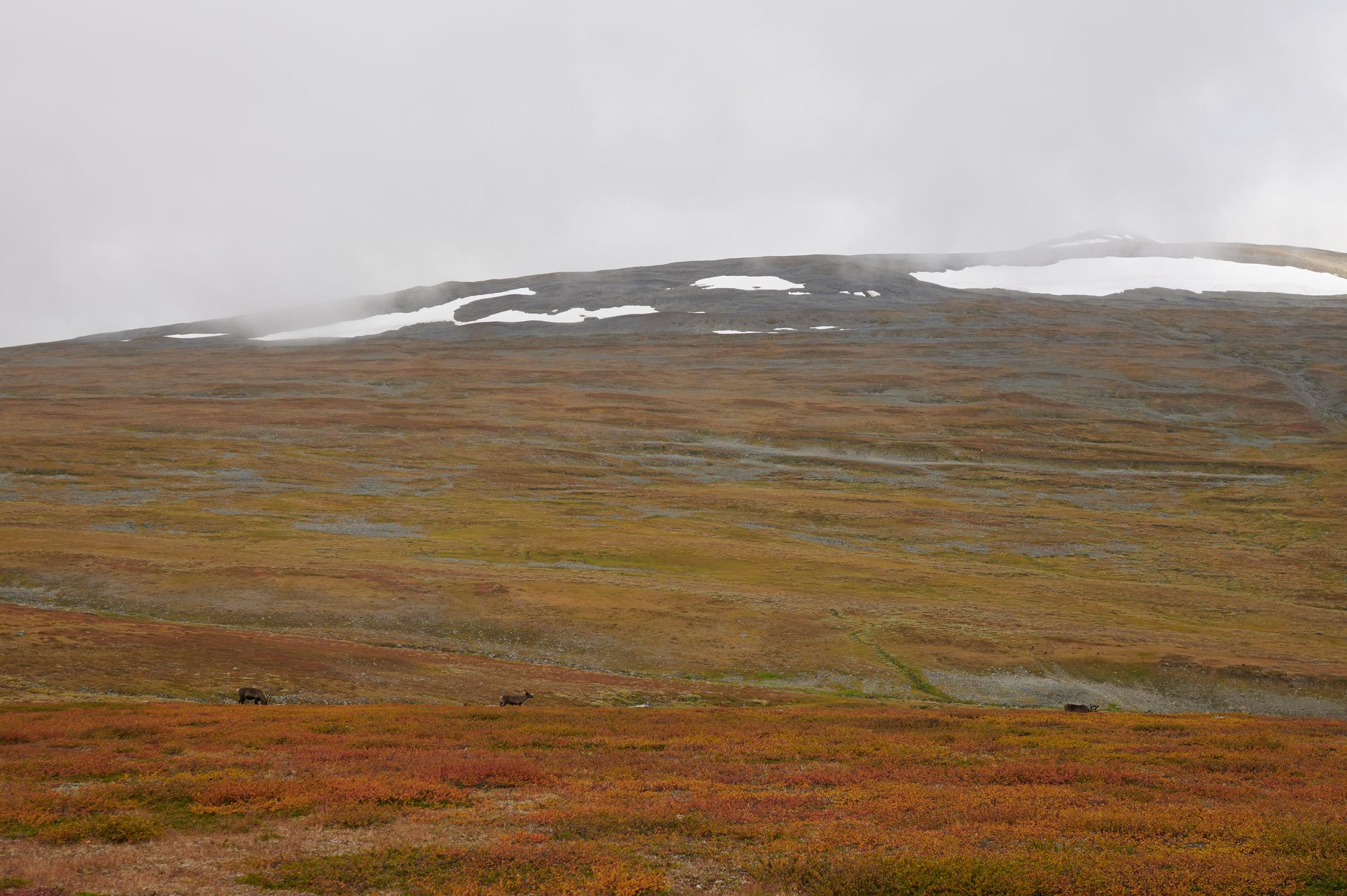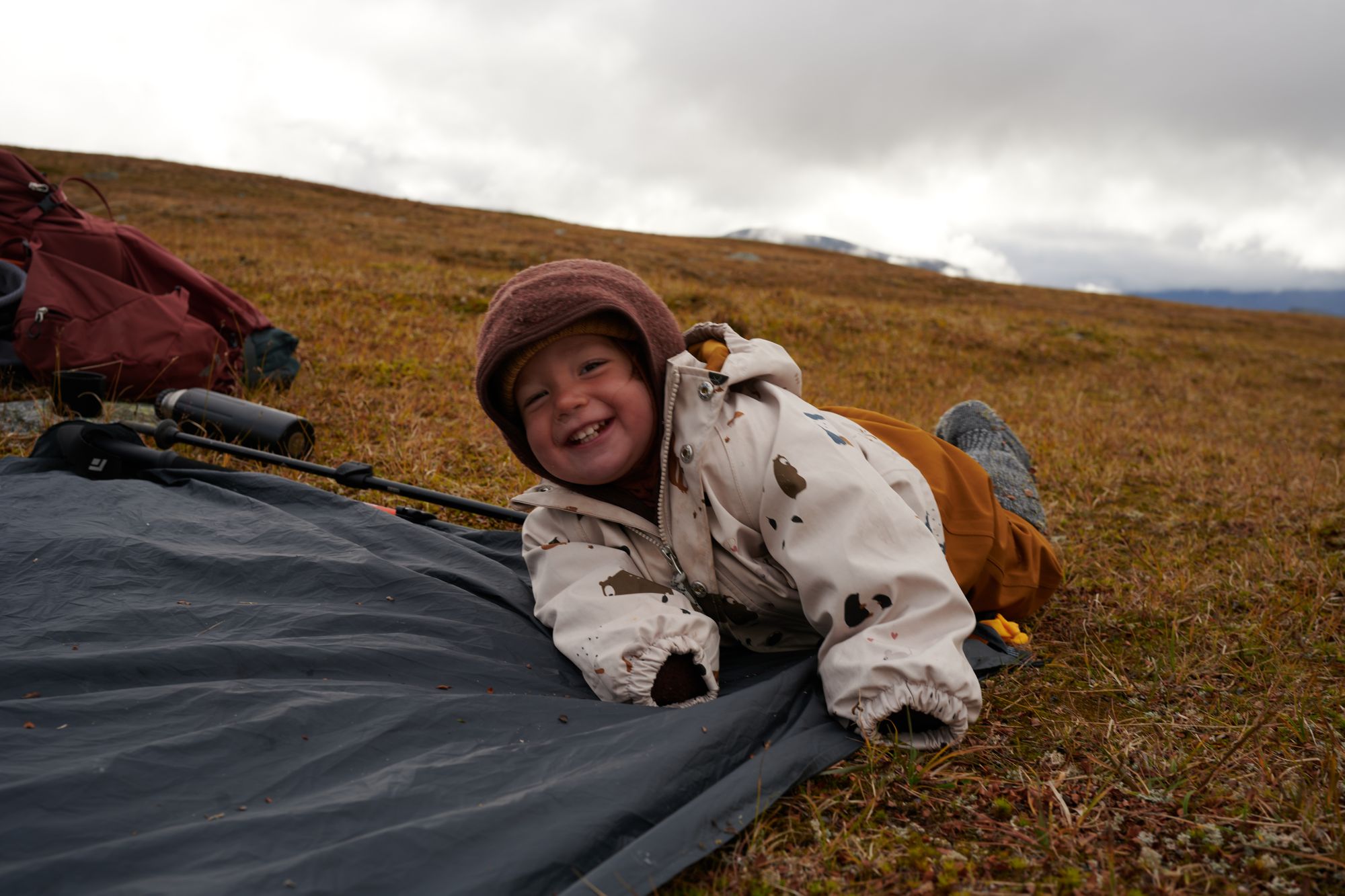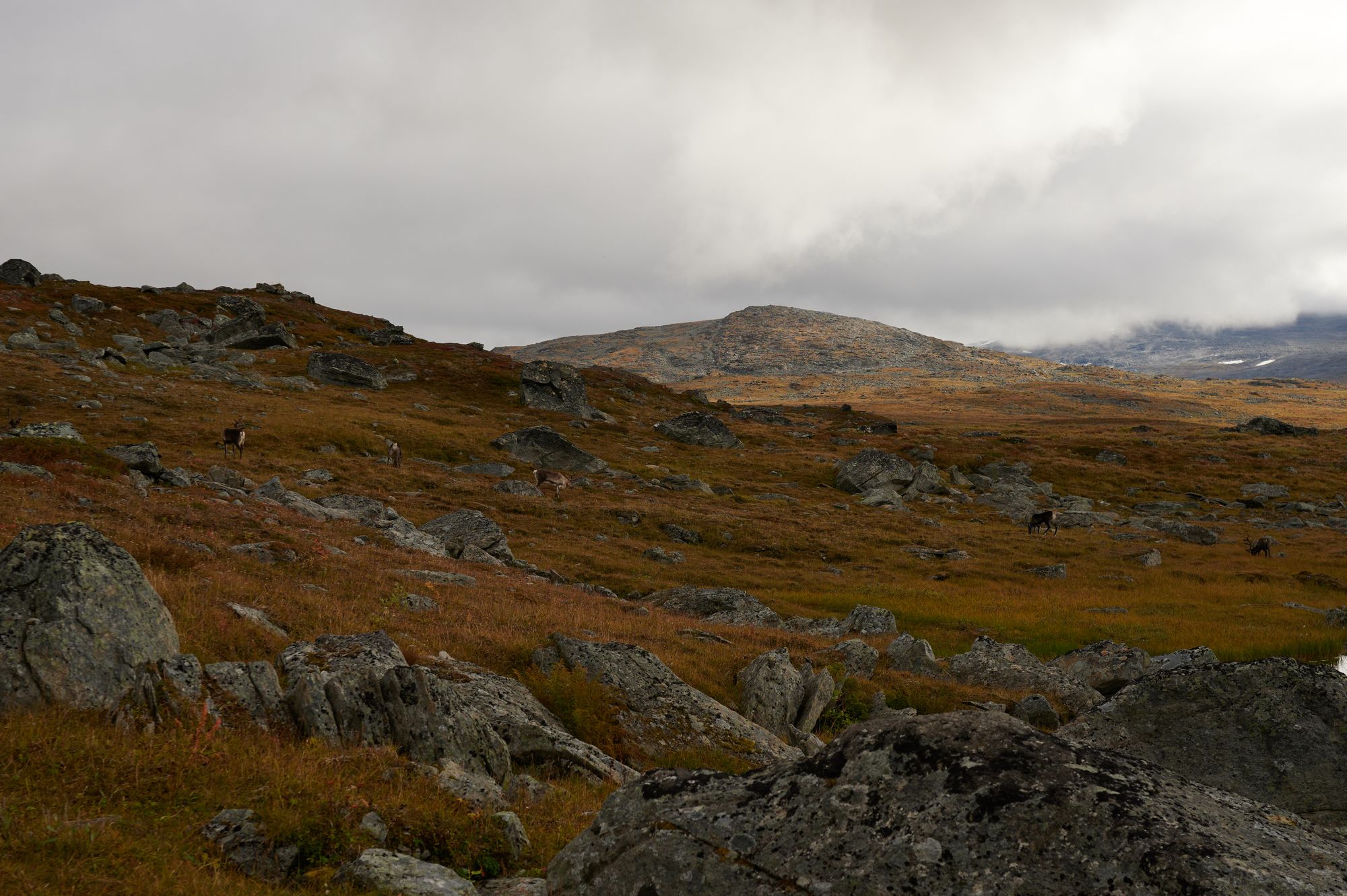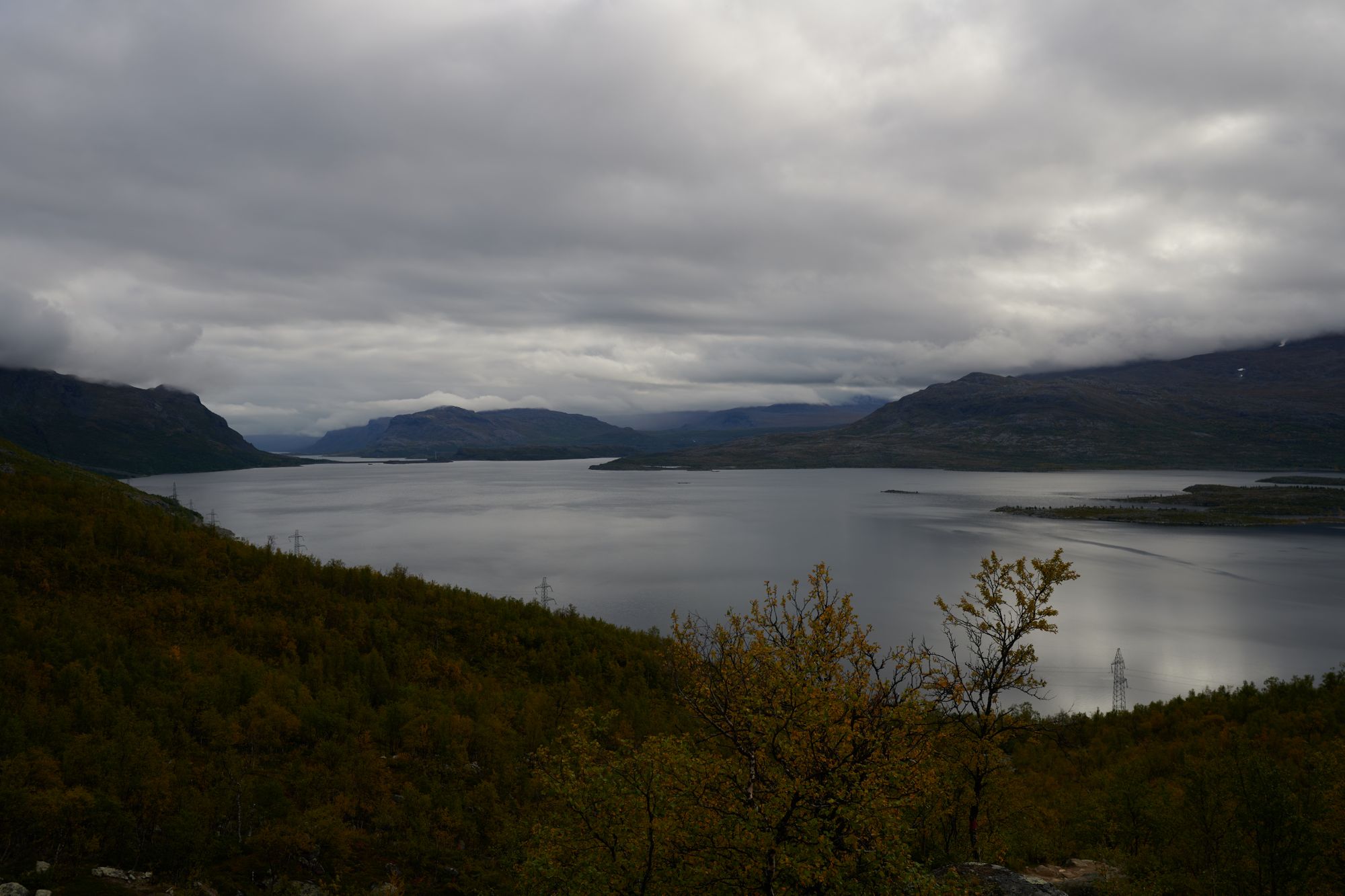 But after arriving in the hut, I actually had a feeling of sadness - seeing a concrete road, car park and electricity line meant the adventure is finished and we are back to reality. Even the hut didn't feel like a mountain hut anymore - and almost nobody stopped there, as most people finish their hike early enough to catch the bus straight away and continue to Saltoloukta.
But we had a nice, quiet evening, talking to the host. In the evening the sky cleared completely and the weather looked perfect for the next few days. Maybe we should continue indeed? We were torn - and because the host had a very different attitude than the previous ones - he was kind of surprised that we didn't want to continue with such perfect conditions. He also said that the trail is not any more difficult than the first one, maybe even the opposite as the surface of most of it is less rocky.
Next day we were woken up to a perfectly clear sky. We felt that it was a sign we must continue. So in the afternoon we took a bus (since this is the point when the trail is broken up by 32km of a concrete road) and then a boat to Saltoloukta.
There, at the mountain station, properly showered and fed, we felt ready to continue.