...although not as cold as we wanted!
A lot has changed since our last trip. Covid has forced us to abruptly cut our trip short  - after 2 months of extensive chess playing, yoga practicing and book reading in Mongolia, we returned to a fairly normal day to day life of daily routines of weekday work and weekend rest. But in the meantime we also welcomed a little human into our family, which has made life much more adventureous and fun... and exhausting.
After enjoying the family time in multiple lockdowns, in March 2022 we were finally ready to pack our backpack once again, only it would be only one big backpack and one child carrier (and a travel cot to make it a bit more difficult)!
Our dream was to travel through Russia by train once again, to the far north Murmansk and back through Sweden or Finnland, however after the pandemic international train connections were not restored yet, and the situation was still too volatile to plan a big trip anyway.
So we went for realising another dream of ours - Lofoten islands in Norway. And of course, we had to do it overland - after having such great time on South American buses and Russian trains, we simply couldn't imagine just flying to the Arctic, without experiencing the actual journey - I stay firm in my belief that just flying around the world is not really traveling but extensively damaging tourism.
Traveling through Europe by train is definitely not as easy and straight-forward as through Russia, mainly because there are no long distance trains covering multiple countries, so you need to change trains and break the journey a bit, especially travelling with a toddler. But we were sure that it would be a great experience, so I used the time during our little one's naps to plan the trip.
Getting from Zurich to Lofoten (specifically, the last island of the Lofoten connected overland, Å i Lofoten), is a long trip - a night train from Zurich to Hamburg, then 4.5 hour train to Copenhagen, break in Copenhagen, 4.5 hour train to Oslo, night train to Trondheim, 8 hour train to Bodø, night in Bodø, a 4 hour ferry to Moskenes, and finally a 10 minute bus to Å i Lofoten! Uff, just enummerating the stops is challenging - but taking the trip not as much as we thought - luckily The Baba enjoyed it as much as we did. Time went by quickly strolling along the train, waving at fellow passengers and looking out of the window.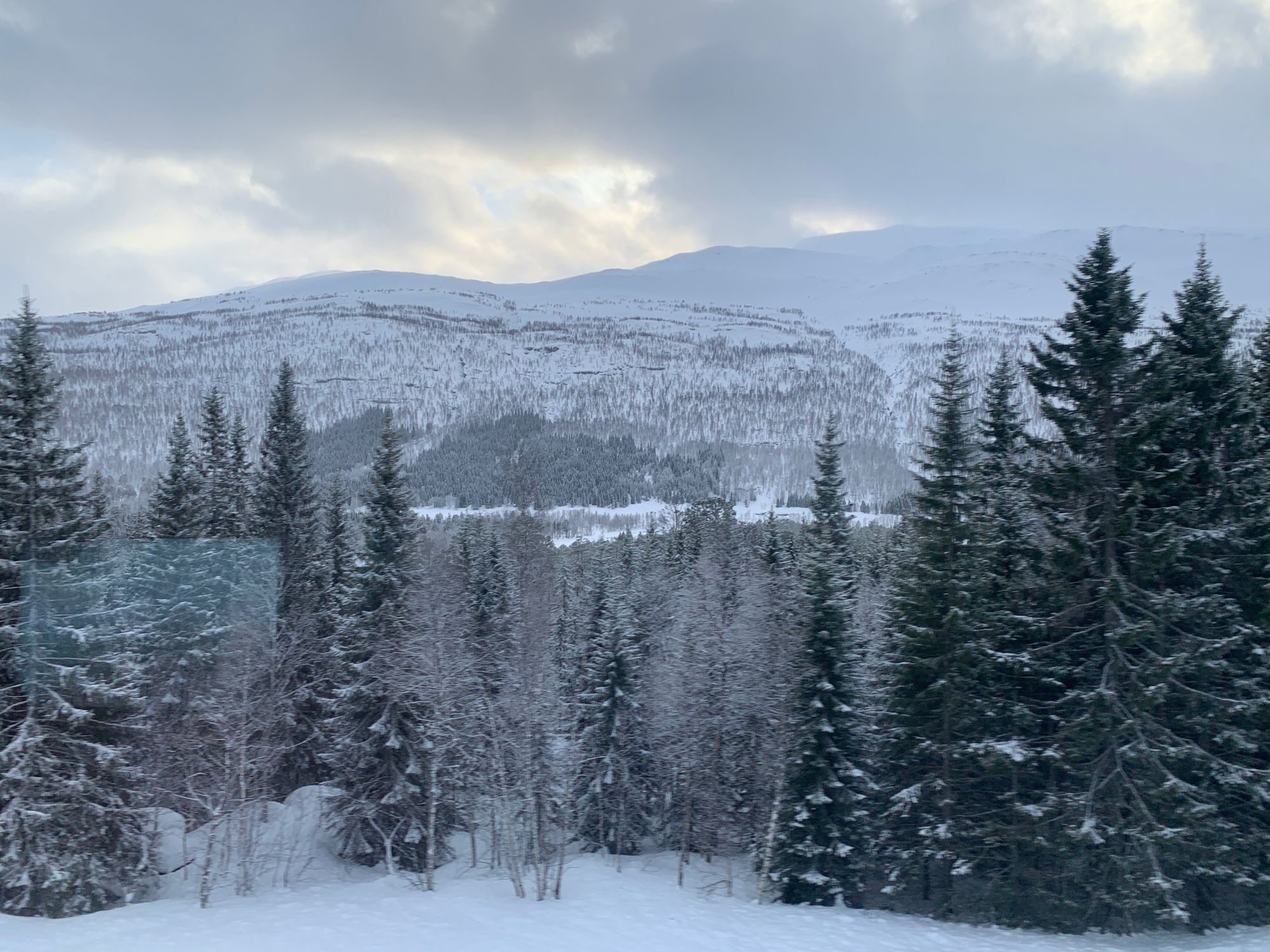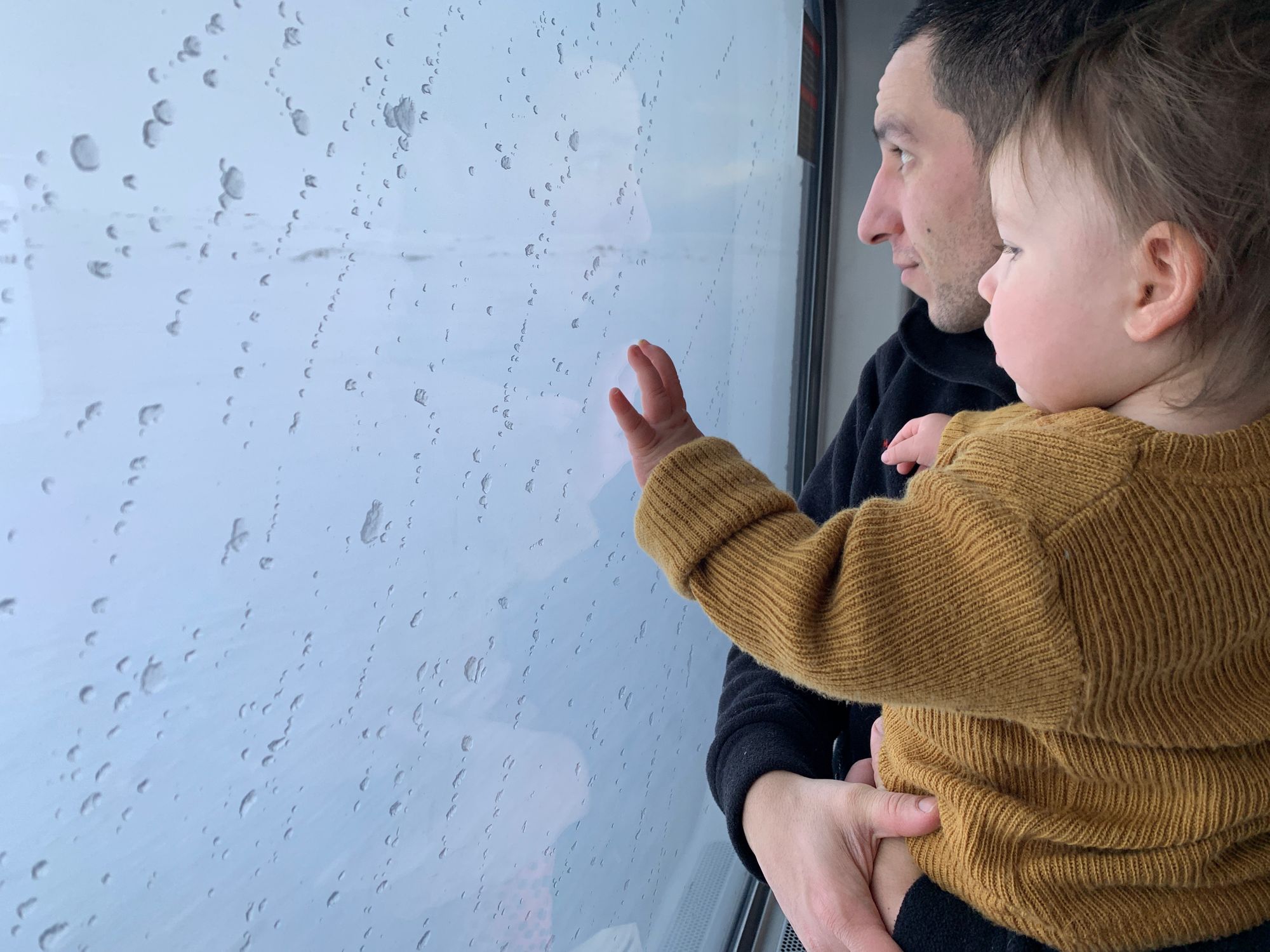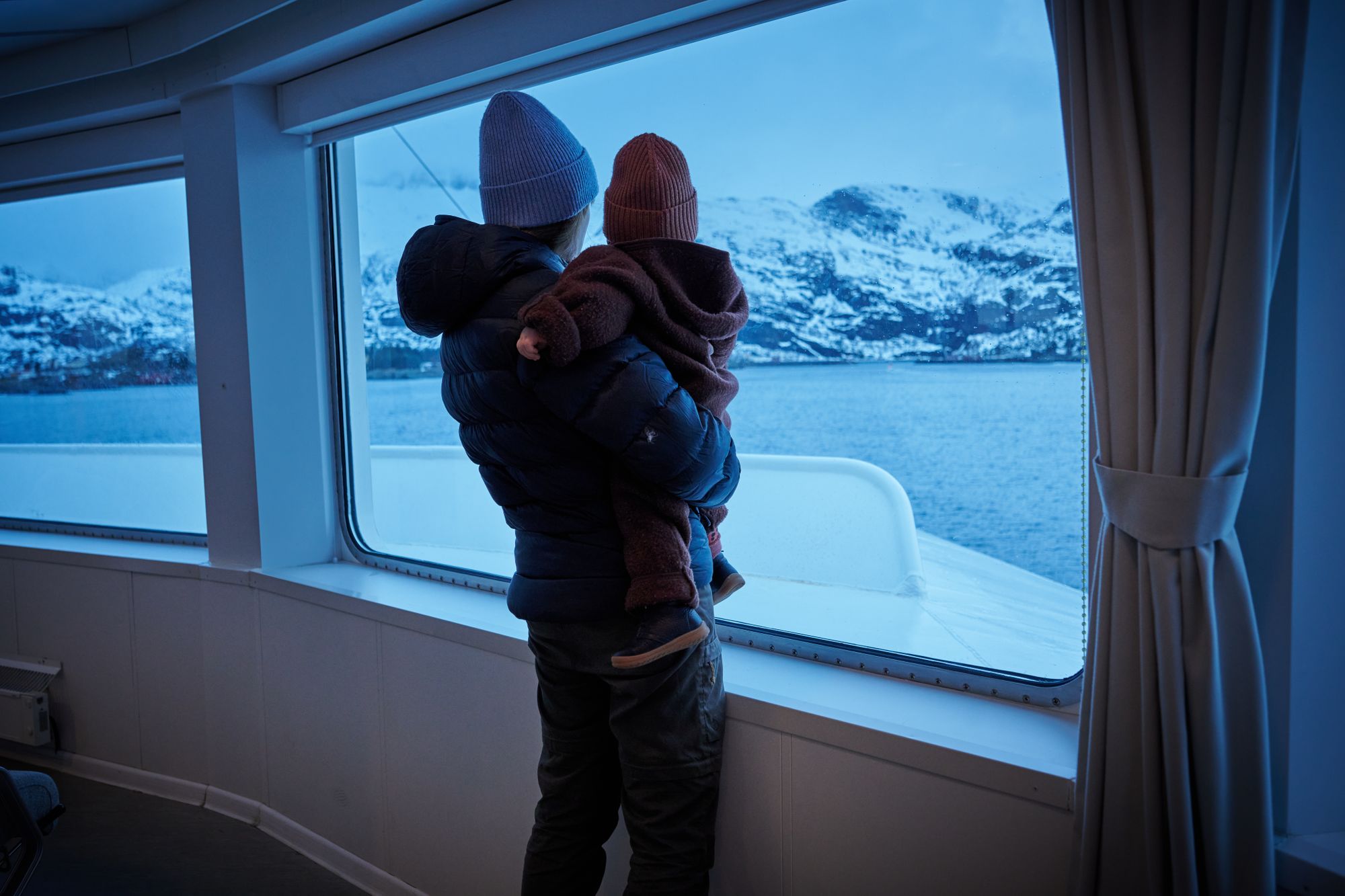 When we got there, it was all we have hoped for - well, could have had more snow, but this is something you cannot plan for. Our accomodation was a humble rorbu ("red cottage") directly at the seaside, where Baba could run around and play, and we could relax looking at the sea and listening to the seagulls. Because we were taking the train and had to carry everything we were taking with us, Baba had only few toys to play with, which turned out to be beneficial - at home she spent more most of the time taking stuff off the shelves, but there, since there was nothing on the shelves (and not many shelves either), she was just finding new ways to play with the toys.
Every day gave us an opportunity to see the island in a different light - every sunrise and sunset was different. On a sunny day we could enjoy breakfast on the porch, on a not so sunny day, the cosiness of our living room.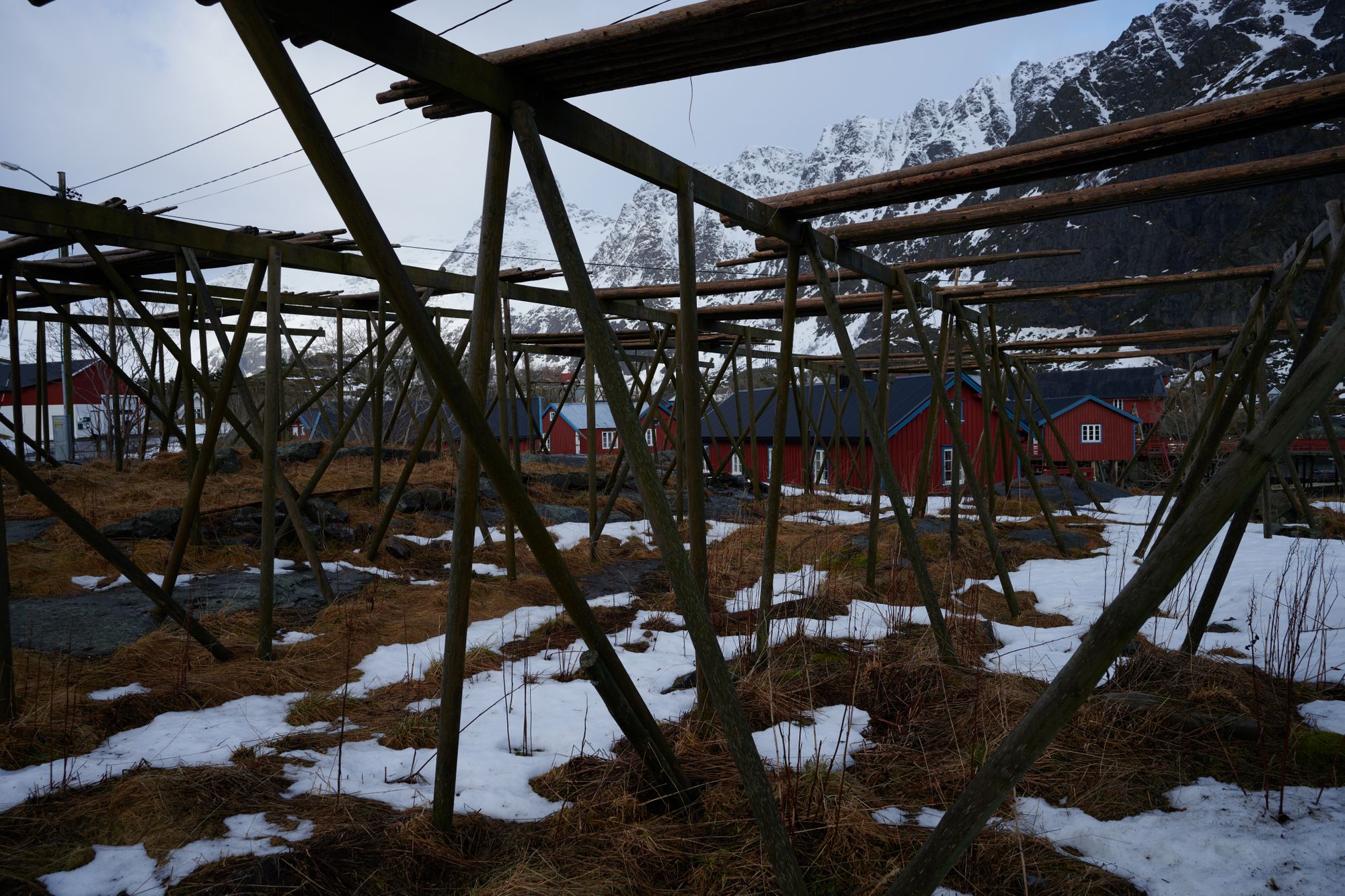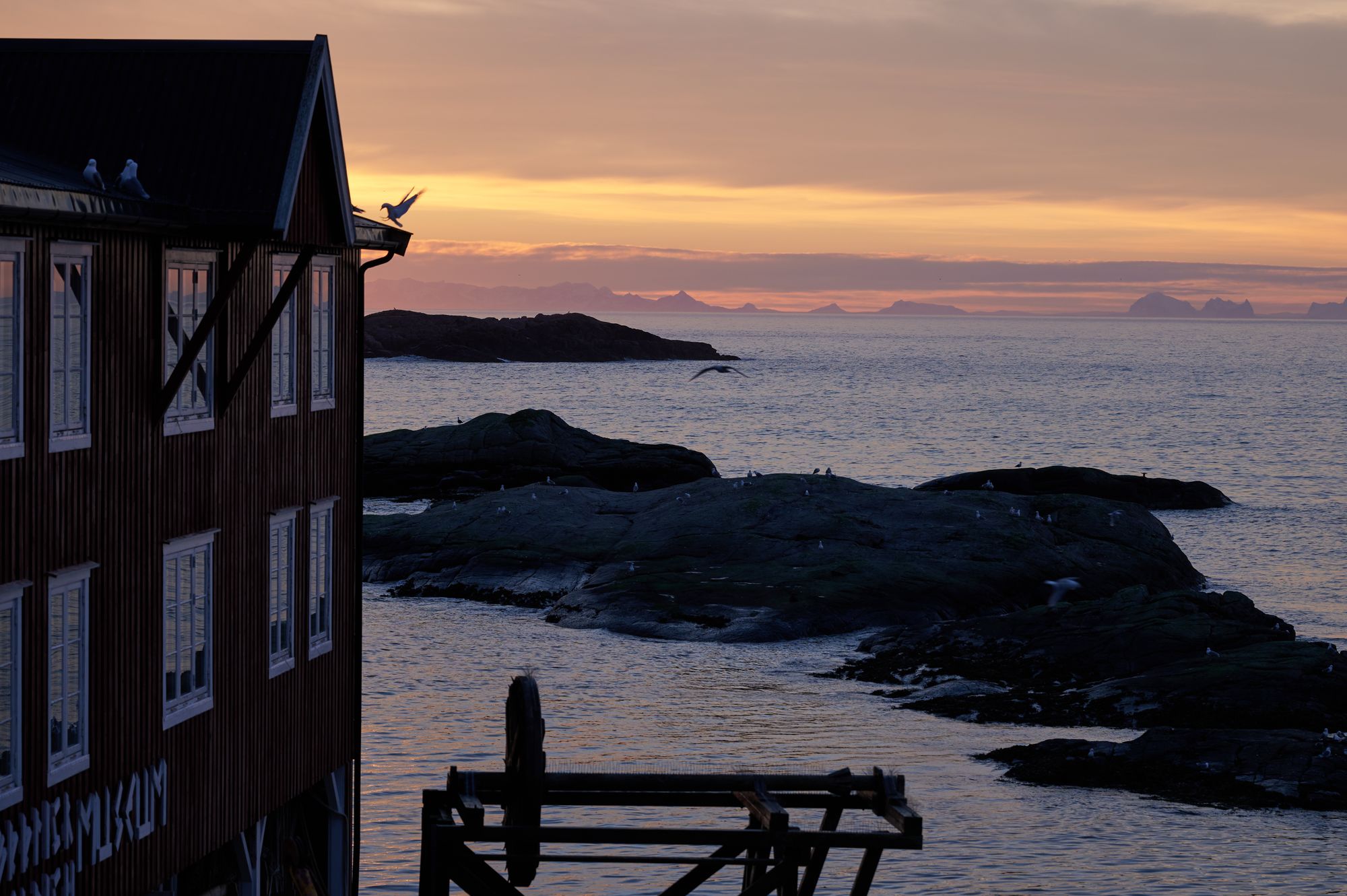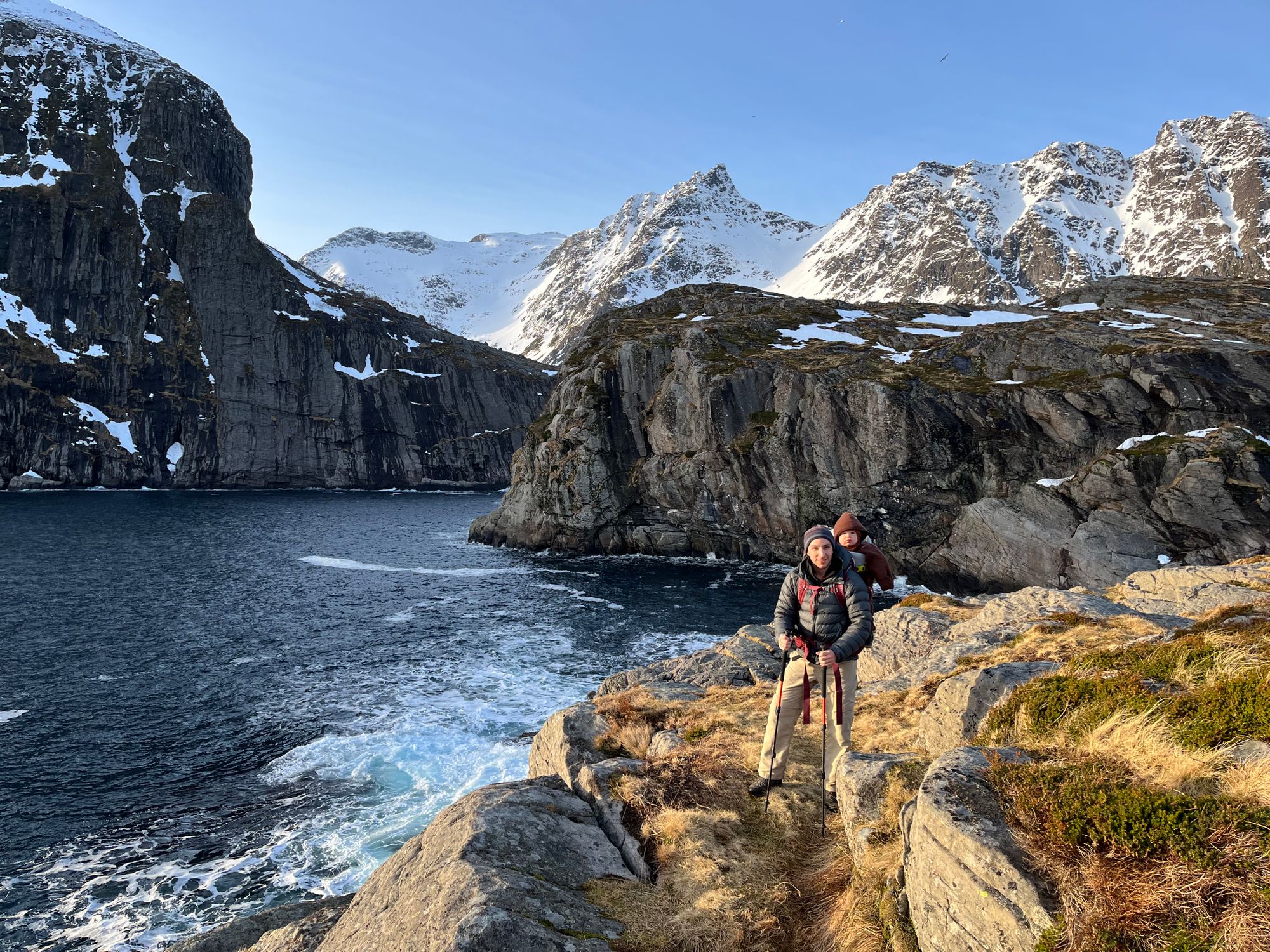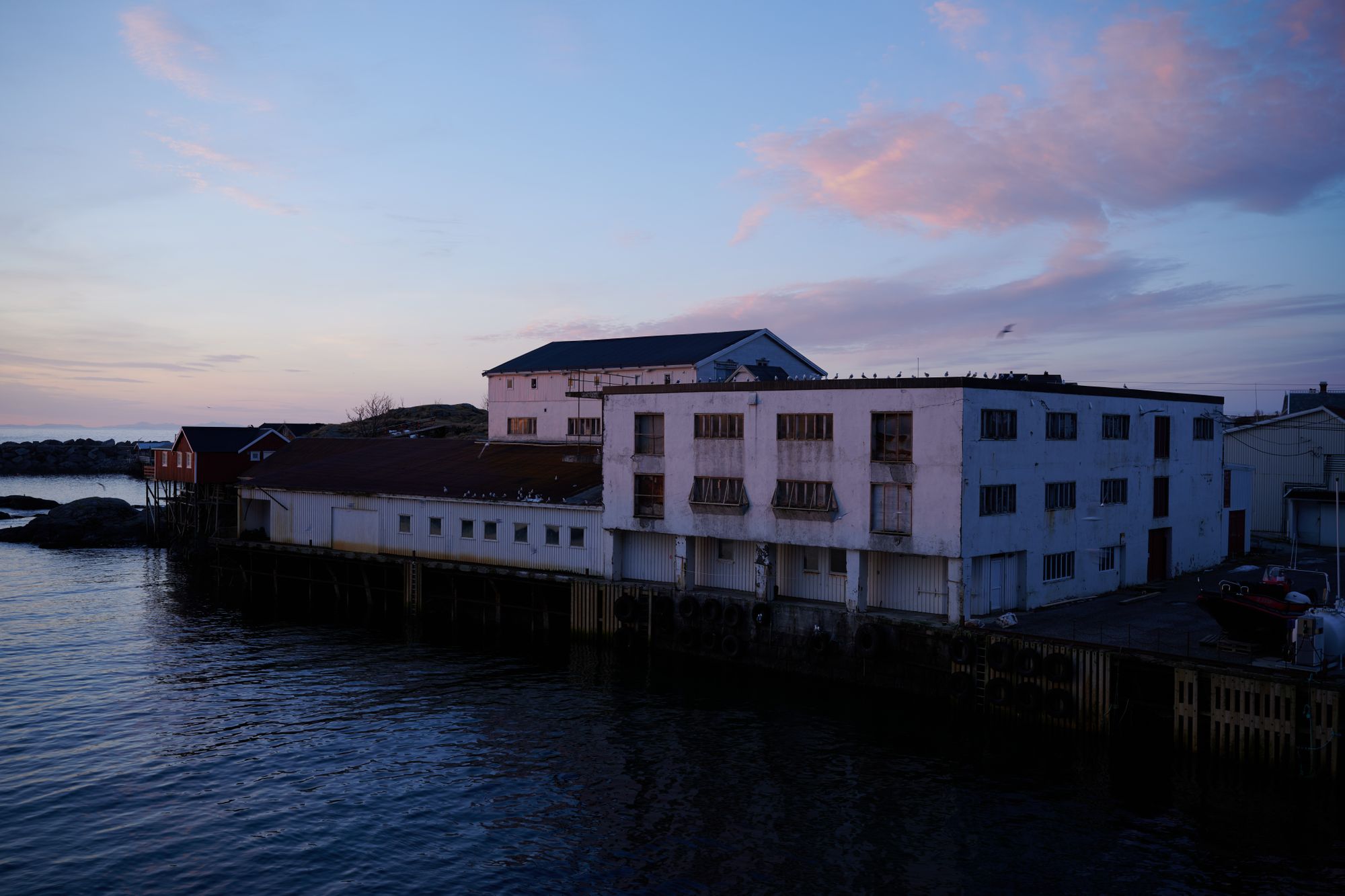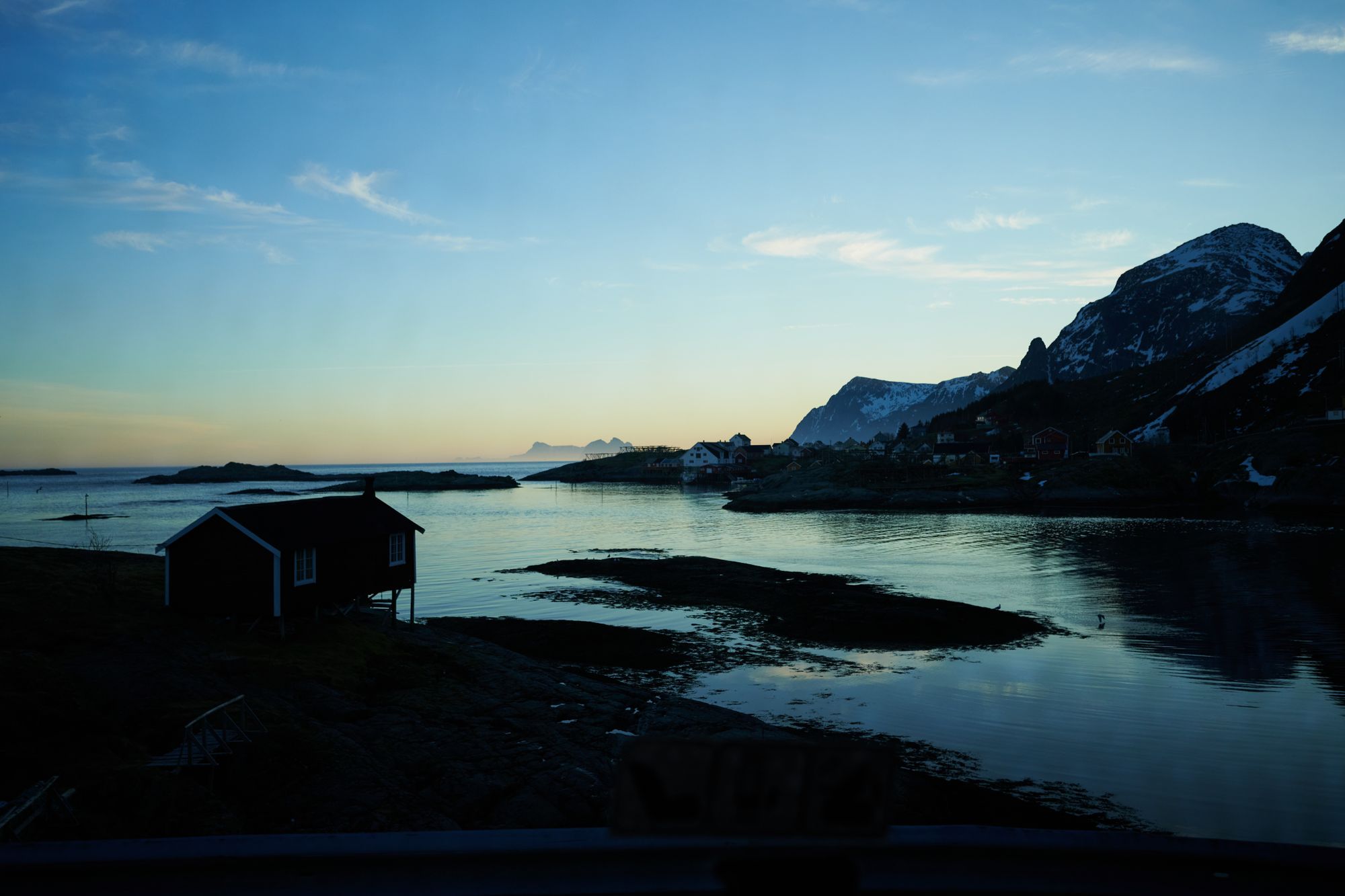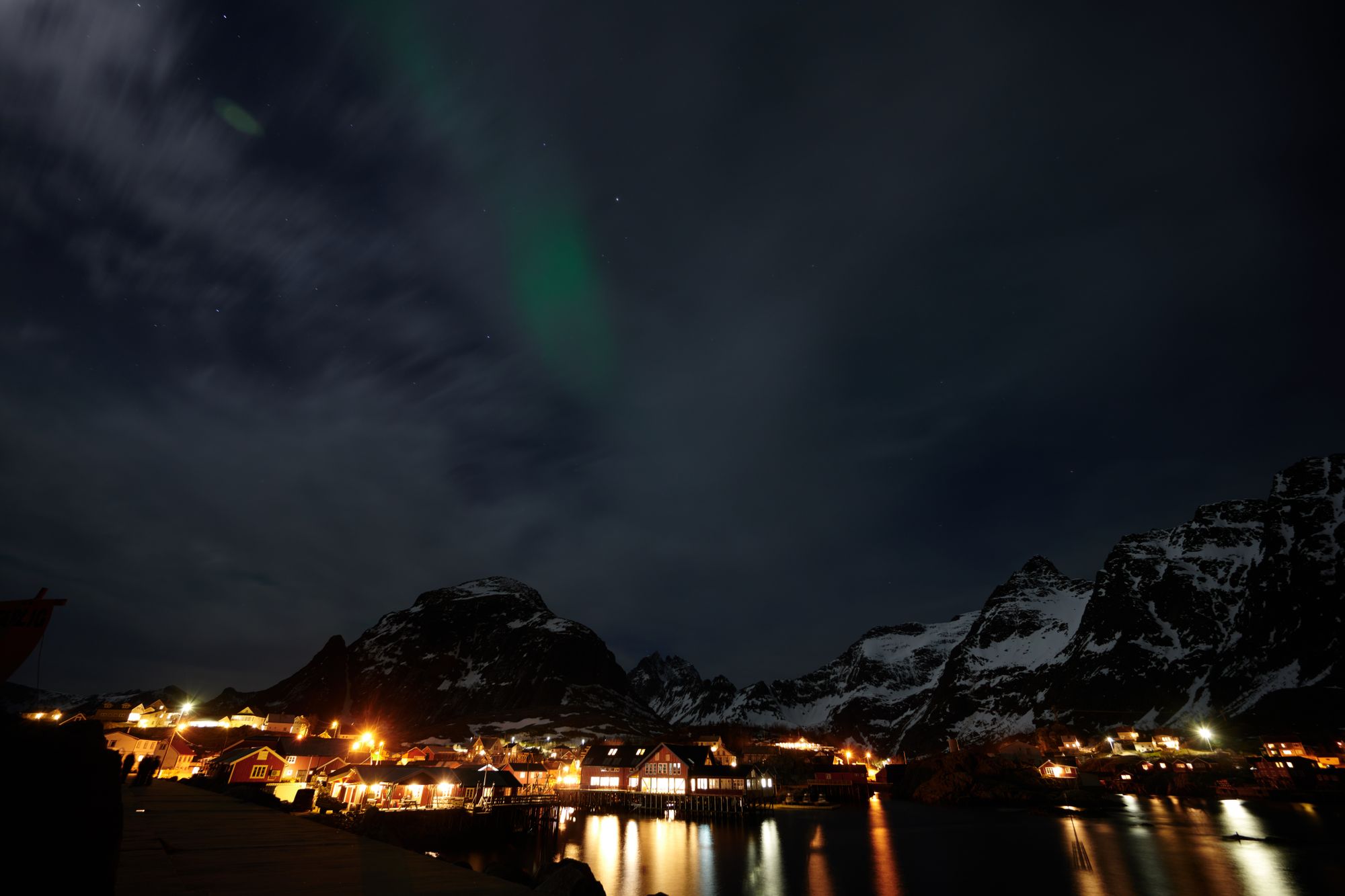 In the middle of our stay we took a trip to Hamnoy. It must be one of the most popular and busy places in the southern part of Lofoten island. Even though the views are stunning, we were very happy we went there only for 2 days. The "fishing hamlets" are not really fishing hamlets, but a holiday resort, creating a sort of Disneyland experience. They are built very close together and in the morning we could see a constant stream of people strolling on the porch behing the huts. It was still nice to see the views around another part of the islands, the atmosphere of remoteness of Å is definitely something that suits us better.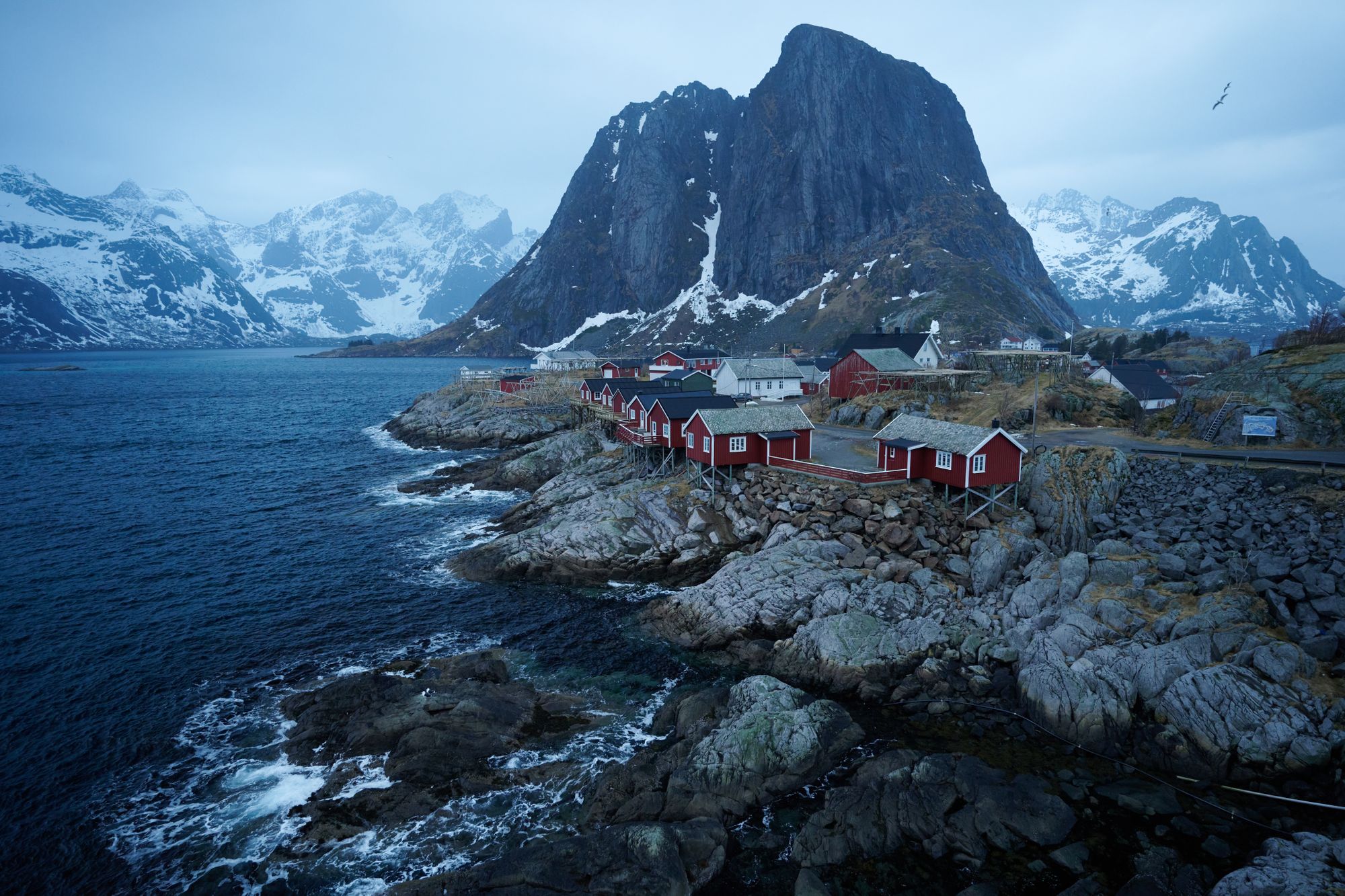 It is hard to convey the exèrience of the trip - we did not do much at all, eating very simple food every day (there was only a very little museum shop on our island, so had to do all our shopping in Coop in another village) and taking walks. The pictures show how beautiful it was and how happy we were. It felt like we took few months off rather than just few weeks.
Traveling with a toddler is also something else than what we have previously experienced. You always have to keep naptimes in mind, as a tired toddler is a crying toddler - so even though we did stopovers on the way there, we have not seen anything  of Copenhagen or Stockholm, we just made sure Baba gets a chance to run around before the next train journey. But having the opportunity to share what you love with a child, and see her eyes widen with curiousity when she looks through the window of a train. For us personally it is a much better time spent with her than taking her to some "family-friendly hotel" with all kinds of entertainment. For her at this age being with her parents all day long was the best thing we could offer.